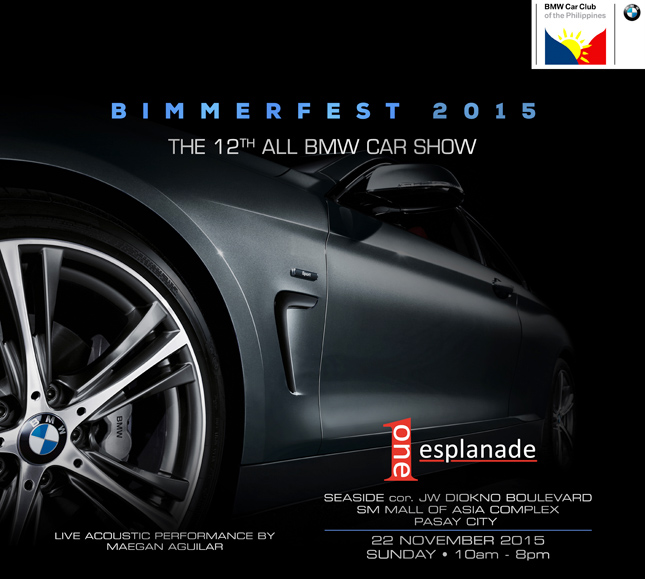 Are you a fan of BMW, the German automotive marque? Do you like hanging around cars made by the Munich-based carmaker? And do you like mingling with other people obsessed with the brand? If your answer is yes, then you don't want to miss "Bimmerfest XII," the annual all-BMW car show organized by the BMW Car Club of the Philippines. The 12th staging of the event is going to be held on November 22 (Sunday), 10am to 8pm, at One Esplanade in Pasay City.
According to the club: "This whole-day event provides the opportunity for club members to display their pride and passion for the appreciation not only by fellow club members, but the general public as well. This event will showcase the rich automotive heritage of BMW as it features models from the earliest and current range of BMW series to the special M cars."
Special awards are up for grabs for the exhibitors:
* Best in interior
* Best in exterior
* Best in modern display
* Best in special display
* Best in heritage
* Best in show
* People's choice
* Hall of fame
* Best guest display
* Best newbie display
* Bimmerfest fanatic award
Maegan Aguilar is scheduled to give a live acoustic performance beginning at 3pm.
Continue reading below ↓
Recommended Videos
The nice thing about Bimmerfest is that it's not all about the cars. This year, "the event will also highlight two out of the three organizations that the club is supporting. They are Philippine Red Cross and World Wild Life Fund Philippines. Philippine Red Cross will conduct a blood donation activity during the event."
Bimmerfest XII is co-presented by Top Gear Philippines and PLDT SMART SME Nation, and sponsored by Petron Corporation, Bewith, Bilstein, Dynalab, H&R, Hillsborough Car Spa, Saffiro Tires and Standard Insurance.
Admission is free, although registration is required.