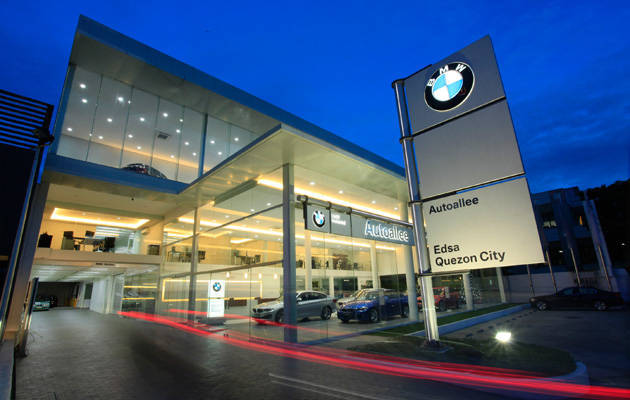 Autoallee BMW, the German carmaker's eighth dealership in the Philippines, has opened its doors at Eton Centris along North EDSA in Quezon City.
Housed in a three-story structure on a 1,900sqm lot, Autoallee's expansive showroom can display as many as six vehicles yet give customers enough space "to comfortably view each vehicle down to the last detail." Also located on the showroom floor is a BMW Lifestyle area where customers can purchase premium items that reflect the brand's lifestyle.
A new-car delivery area is also housed inside the showroom where customers can wait in comfort for the formal turnover of their newly purchased vehicle. Highly trained sales consultants can then conduct a six-point walk-around tour to introduce customers to the features and details of their new BMW.
On the second level is the Isetta Bar, which is inspired by BMW's iconic car from the 1950s, to provide customers a place to wait in while their transactions are being processed.
Lastly, on the third floor is a fully air-conditioned BMW Premium Selection showroom that has on display "an exclusive selection of pre-owned BMW vehicles."
Autoallee BMW also boasts extensive after-sales services. An air-conditioned service assessment area, supposedly the first in the country, is designed to provide customers with comfort, while certified BMW technicians inspect and assess the vehicles prior to being serviced. A large-capacity service garage, equipped with the latest tools and equipment, allow multiple vehicles to be serviced simultaneously, while a two-car service elevator allows easier access to the third floor, which holds additional parking spaces for customers.
Continue reading below ↓
Recommended Videos
"We are proud to welcome Autoallee BMW as the newest member of the BMW dealership network," said Asian Carmakers Corporation president Maricar Parco at the dealership's inauguration. ACC is the authorized distributor of BMW vehicles in the Philippines. "As the eighth dealership in the country, Autoallee BMW is a testament to BMW's commitment to further build and strengthen the brand in the Philippines. Having the widest dealer network in the luxury vehicle segment, we affirm our unmatched leadership in the country for over a decade."