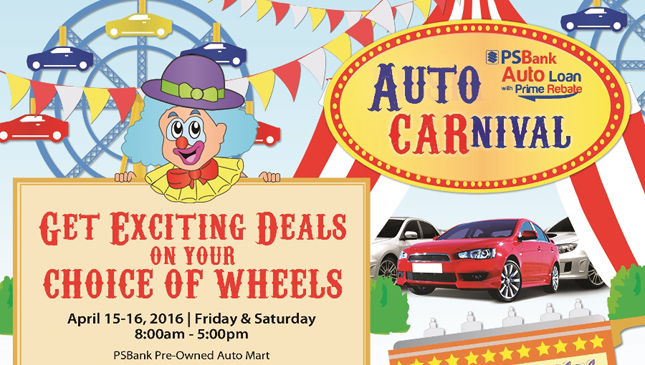 In some cases, shopping for a used ride can be pretty overwhelming. You have to make sure the parties involved are trustworthy, and the car is in good condition. In fact, with all the vehicle-related scams out there, you might as well just consider going the extra mile to just buy a brand-new ride--if you can afford it, that is. But for those who can't, PSBank has a solution.
The bank will be holding a repossessed-vehicle sale called the "Auto CARnival" on April 15 and 16 at its Auto Mart warehouse from 8am to 5pm. The venue is located at 220 Mañalac Avenue, East Service Road, Taguig City.
During the two-day event, anyone looking for a quality pre-owned car can qualify for freebies like P3,000 worth of gas allowance and P2,000 worth of tint services. The company will also be providing free snacks and drinks to help visitors beat the summer heat.
ADVERTISEMENT - CONTINUE READING BELOW ↓
To qualify for the freebies, the customer should have an approved loan application amounting to at least P400,000 with a minimum payment term of one year and a maximum of four. By the way, all vehicles purchased at the event are for private use only.
So whether you're in the hunt for a secondhand vehicle or you just happen to be in the area, be sure to drop by. You never know if your dream ride happens to be part of the sale.
ADVERTISEMENT - CONTINUE READING BELOW ↓
Recommended Videos