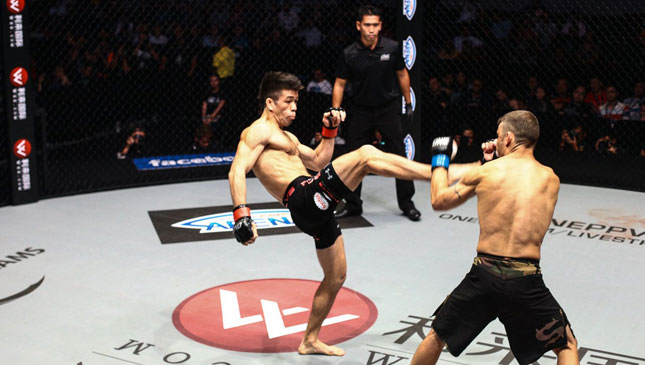 It's not easy becoming a successful mixed martial arts (MMA) fighter. A lot of elements go into it. For one, a combatant needs enough skill and talent along with years of training. They should also have a good team of coaches and supporters behind them. And like any athlete, they need proper nutrition to fuel their bodies for optimum performance.
ADVERTISEMENT - CONTINUE READING BELOW ↓
It's not unlike how a car needs the right kinds of engine oil and fuel to function properly. It's a need that Havoline knows well, which might be why it signed on to be a regional partner for Singapore-based MMA promotion One Championship. Together, the two companies will bring hard-hitting MMA action at One: Age of Domination in Manila.
The main event will see Filipino-American One heavyweight champion Brandon Vera defending his title against Hideki Sekine. On the undercard is another Fil-Am—Mark "Mugen" Striegl.
Striegl is a rising star who fights out of Evolve MMA in Singapore. He'll be pitting his impressive 14-2 MMA record against Bulgarian fighter Sotir Kichukov. The 28-year-old was recently chosen by Caltex to be the brand ambassador for Havoline.
"Mark really embodies Caltex Havoline; he has consistently shown his excellence in the cage and has proven his worth as an MMA fighter. The hard work that he has put into the arts is exactly the same kind of rigor that Chevron exerts in formulating Caltex Havoline engine oils. His fighting spirit and discipline in training resonates the way we, as Chevron Lubricants, conduct our business," said Chevron Philippines area business manager for Philippines and Vietnam Joseph N. Bronfman in a statement.
ADVERTISEMENT - CONTINUE READING BELOW ↓
Recommended Videos
Want to see Vera and Striegl go to war inside the cage? Then don't miss One: Age of Domination. It's happening on December 2, 2016, at the Mall of Asia Arena in Pasay City.