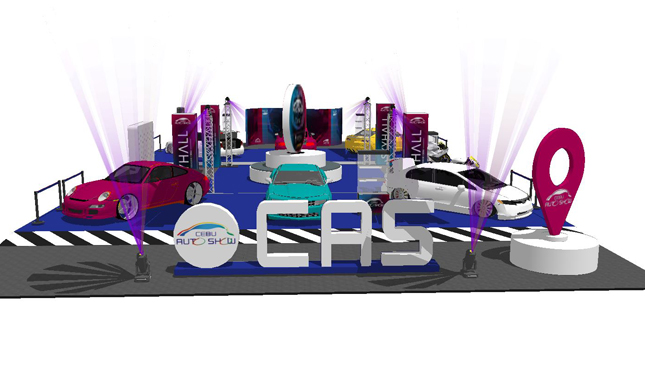 Following the success of last year's show, which showcased 70 companies and garnered close to 12,000 visitors, this year's edition of the Cebu Auto Show (CAS) will continue to push the boundaries of auto trade presentation as it gathers a total of 44 booths composed of seven vehicle brands, two motorcycle brands, and a long list of auto parts and car accessories sellers. Among the brands that are set to participate at this year's show are Foton, JAC, JMC, Volkswagen, Ssangyong, and Toyota.
It was conceived as one of the regional installments of the iconic Manila International Auto Show (MIAS), so the 11th CAS is expected to roll out an equally remarkable presentation of the latest and most innovative automotive trends. Driving around the theme of "Work and Play", this year's CAS will be turning its focus on two of the most prominent reasons why people buy cars. More than ever, people are realizing the value of owning cars not just for everyday use but also for their leisure aspirations. On the other hand, the emergence of new entrepreneurial opportunities as well as the fast-growing TNV sector has undoubtedly opened up a new market for vehicles that can live up to this new form of consumer demand. As such, CAS 2018 will be all about highlighting vehicles and other automotive products and services that will primarily address these growing demands.
Continue reading below ↓
Recommended Videos
Other highlights are the much-awaited diecast car model swap meet that will surely impress the most discerning collector as it showcases the best pieces from the Diecast Car Collectors of the Philippines and the Cebu Diecast Car Collectors. Given that both organizations are comprised of both local and international members, attendees are in for an unforgettable experience. Also not to be missed is this year's roster of sports cars and motor bikes display as well at the Mountain Wing exhibit of CAS 2018.
The 11th Cebu Auto Show is happening on September 14-16, 2018 from 10:00am to 8:00pm at the SM Seaside Skyhall. The event offers free admission to all and is for the benefit of the ABS-CBN Lingkod Kapamilya Foundation. For more information, follow Cebu Auto Show on Facebook and Instagram, call (02) 656-9239, or email info.worldbex@gmail.com.