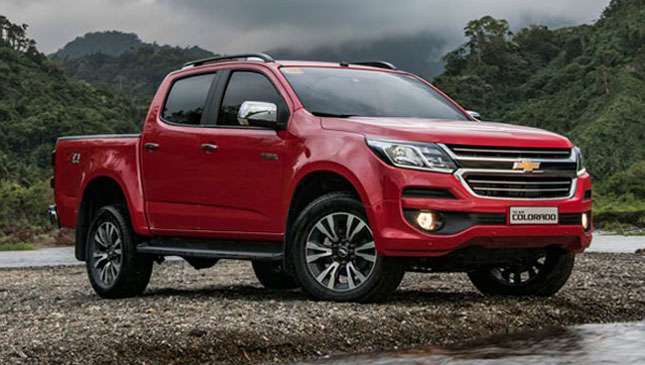 With the rainy season in full swing and the potential for floods always around the corner, height is might when it comes to your vehicle. Until August 22, local Chevy distributor The Covenant Car Company is offering special deals on its taller models through its 'Chevrolet Truck Month Promo.'
For as low as P108,000, you can own a brand-new 2017 Chevrolet Colorado. With 800mm of water-wading capacity, it'll clear most urban floods without breaking a sweat. Under its hood is a 2.8-liter turbodiesel with 200hp and 500Nm. And if you prefer a midsize SUV, the new Trailblazer can be had for P88,000 down.
Aside from the big boys, Chevrolet is also offering special downpayment deals on other cars in the lineup. You can check out the full list below. Anyone reserving a unit?
2017 Chevrolet Colorado
*2017 Chevrolet Colorado 4x2 LT AT – P108,000
*2017 Chevrolet Colorado 4x2 LTX AT – P138,000
2017 Chevrolet Trailblazer
*2017 Chevrolet Trailblazer 4x2 LT AT – P88,000
*2017 Chevrolet Trailblazer 4x2 LTX AT – P168,000
2016 Chevrolet Trax
*2016 Chevrolet Trax LS AT – P68,000
*2016 Chevrolet Trax LT AT – P78,000
Chevrolet Sail
*Chevrolet Sail LT MT – P38,000
*Chevrolet Sail LT AT – P38,000
*Chevrolet Sail LTZ AT- P68,000
Chevrolet Spark
*Chevrolet Spark LT MT – P58,000
*Chevrolet Spark LT CVT – P68,000
*Chevrolet Spark LTZ CVT – P78,000