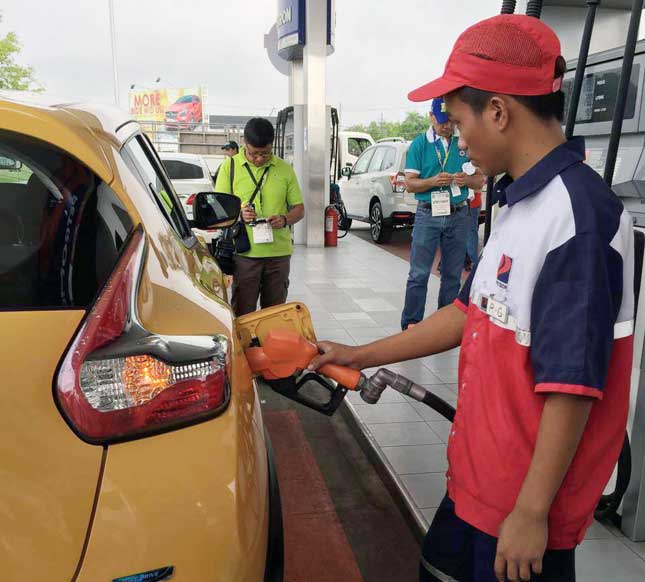 Nearly a month ago, we reported that the Department of Energy was to conduct a fuel economy run--in partnership with Petron Corporation--in line with the government agency's plan to expand its Philippine Energy Standards and Labeling Program to include more light-duty vehicles. The results of the run would then be used to set a benchmark for fuel-efficieny labeling for car manufacturers.
Well, the numbers are finally out. A total 70 different vehicles from 22 car manufacturers took part in the government-sanctioned test, with varying results. Take note: The run was performed on a highway setting. Drivers embarked on the 280km drive from Angeles through SCTEX, TPLEX and back.
Some notable observations: 71% of the entries running on gasoline exceeded 20km/L compared to 66% of those running on diesel. The top performer for gasoline vehicles was the Suzuki Celerio (29.14km/L), while for diesel it was the Isuzu D-Max (38.46km/L).
The locally available car brands that did not participate in the exercise were Aston Martin, Bentley, BMW, BYD, Chrysler, Ferrari, Jaguar, Jeep, Lamborghini, Land Rover, Lexus, Lotus, Maserati, Mercedes-Benz, MG, Morgan and Rolls-Royce. It must also be said that even among those brands that did join, the full product lineups weren't made available.
ADVERTISEMENT - CONTINUE READING BELOW ↓
So how did your favorite carmaker perform in terms of fuel consumption? Check out the complete results below. Again, these are only for the highway run; no figures for city traffic were provided.
AUDI
* A3 2.0 TDI FWD 6AT (Diesel) - 28.46km/L
* Q5 2.0 TDI AWD 7AT (Diesel) - 20.79km/L
BAIC
* A113 1.3 FWD 5MT (Gasoline) - 18.58km/L
* M20 1.5 RWD 5MT (Gasoline) - 15.48km/L
* MZ40 1.2 RWD 5MT (Gasoline) - 14.54km/L
CHEVROLET
* Sail 1.5 FWD 4AT (Gasoline) - 18.26km/L
FORD
* Fiesta 1.0 Sport+ FWD 6AT (Gasoline) - 23.39km/L
* Focus 1.5 Sport FWD 6AT (Gasoline) - 19.20km/L
FOTON
* Toplander 2.8 RWD 5MT (Diesel) - 16.07km/L
* Toplander 2.8 4WD 5MT (Diesel) - 14.81km/L
HONDA
* Brio 1.3 S FWD 5AT (Gasoline) - 24.78km/L
* Brio Amaze 1.3 V FWD 5AT (Gasoline) - 23.77km/L
* City 1.5 E FWD CVT (Gasoline) - 26.02km/L
ADVERTISEMENT - CONTINUE READING BELOW ↓
Recommended Videos
* Civic 1.5 RS FWD CVT (Gasoline) - 27.56km/L
* CR-V 2.0 S FWD 5AT (Gasoline) - 20.59km/L
* HR-V 1.8 E FWD CVT (Gasoline) - 24.82km/L
* Jazz 1.5 VX FWD CVT (Gasoline) - 28.60km/L
* Mobilio 1.5 V FWD CVT (Gasoline) - 24.69km/L
HYUNDAI
* Accent Hatch 1.6 FWD 7AT (Diesel) - 25.64km/L
* Accent Sedan 1.6 FWD 6MT (Diesel) - 29.41km/L
* Elantra 1.6 FWD 6MT (Gasoline) - 27.83km/L
* Santa Fe 2.2 FWD 6AT (Diesel) - 22.76km/L
* Tucson 2.0 FWD 6AT (Gasoline) - 21.18km/L
* Tucson CRDI 2.0 FWD 6AT (Diesel) - 24.80km/L
ISUZU
* Crosswind XT 2.5 RWD 5MT (Diesel) - 20.76km/L
* D-Max 3.0 RWD 5MT (Diesel) - 38.46km/L
* MU-X LS-A 3.0 RWD 5AT (Diesel) - 23.53km/L
KIA
* Carnival 2.2 FWD 6AT (Diesel) - 19.20km/L
* Forte 1.6 4-Door FWD 6AT (Gasoline) - 16.65km/L
* Forte Koup 2.0 2-Door FWD 6AT (Gasoline) - 20.62km/L
ADVERTISEMENT - CONTINUE READING BELOW ↓
* Picanto 1.2 FWD 4AT (Gasoline) - 19.55km/L
* Rio 4-Door 1.4 FWD 4AT (Gasoline) - 17.41km/L
* Sorento 2.2 AWD 6AT (Diesel) - 21.67km/L
* Soul 1.6 FWD 7AT (Diesel) - 23.28km/L
* Sportage 2.0 AWD 6AT (Diesel) - 21.31km/L
MAHINDRA
* Enforcer DC 2.5 4WD 5MT (Diesel) - 17.28km/L
* Xylo 2.2 RWD 5MT (Diesel) - 20.26km/L
MAZDA
* 2 R 1.5 FWD 6AT (Gasoline) - 25.95km/L
* 2 V 1.5 FWD 6AT (Gasoline) - 26.72km/L
MINI
* Cooper 3-Door Hatch 1.5 FWD 6AT (Gasoline) - 21.59km/L
MITSUBISHI
* Mirage 1.2 FWD 5MT (Gasoline) - 25.64km/L
* Mirage 1.2 FWD CVT (Gasoline) - 27.05km/L
* Montero Sport 2.4 4WD 6MT (Diesel) - 18.48km/L
* Montero Sport 2.4 4WD 8AT (Diesel) - 17.79km/L
NISSAN
* Almera 1.2 FWD 5MT (Gasoline) - 21.26km/L
* Juke 1.6 FWD CVT (Gasoline) - 23.67km/L
* Navara 2.5 RWD 6MT (Diesel) - 17.85km/L
* Sylphy 1.6 FWD MT (Gasoline) - 24.18km/L
ADVERTISEMENT - CONTINUE READING BELOW ↓
* Urvan 2.5 RWD 5MT (Diesel) - 15.41km/L
PEUGEOT
* 301 1.6 FWD 6MT (Diesel) - 29.35km/L
* Expert Tepee 2.0 FWD 6AT (Diesel) - 17.95km/L
PORSCHE
* Cayenne 3.0 AWD 8AT (Diesel) - 18.48km/L
SUBARU
* Forester 2.0 AWD CVT (Gasoline) - 16.71km/L
* Legacy S 2.5 AWD CVT (Gasoline) - 20.01km/L
* XV 2.0 AWD CVT (Gasoline) - 19.46km/L
SUZUKI
* Celerio 1.0 FWD 5MT (Gasoline) - 27.70km/L
* Celerio 1.0 FWD CVT (Gasoline) - 29.14km/L
* Ciaz GL 1.4 FWD 5MT (Gasoline) - 27.94km/L
* Ciaz GLX 1.4 FWD 4AT (Gasoline) - 22.93km/L
* Ertiga GLX 1.4 FWD 4AT (Gasoline) - 22.03km/L
* Swift 1.2 FWD 4AT (Gasoline) - 22.35km/L
TATA
* Indigo LX 1.4 FWD 5MT (Diesel) - 22.36km/L
* Manza Aura 1.3 FWD 5MT (Diesel) - 23.79km/L
* Vista Ignis 1.3 FWD 5MT (Diesel) - 23.51km/L
TOYOTA
* Fortuner 2.4 RWD 6AT (Diesel) - 18.91km/L
ADVERTISEMENT - CONTINUE READING BELOW ↓
* Hilux 2.4 RWD 6AT (Diesel) - 21.59km/L
* Innova 2.8 RWD 6AT (Diesel) - 25.25km/L
VOLKSWAGEN
* Jetta 2.0 TDI FWD 5MT (Diesel) - 28.08km/L
VOLVO
* V40 2.0 Turbo FWD 6AT (Gasoline) - 16.31km/L
* XC60 D4 2.0 FWD 8AT (Diesel) - 20.82km/L
Photo from Petron Corporation