Has a sales attendant or dealership recently tried to convince you to buy a brand-new car by saying there's a looming tax hike? Yeah, don't buy it. This isn't 2017 all over again.
To keep car buyers informed and to prevent incidents of profiteering, the Department of Finance (DOF) is reminding everyone that there will be no tax increase on vehicles in 2019 as part of the Tax Reform for Acceleration and Inclusion (TRAIN) law. Unlike with fuel, a tax hike on cars this year isn't happening.
You can check out the DOF's Facebook announcement below: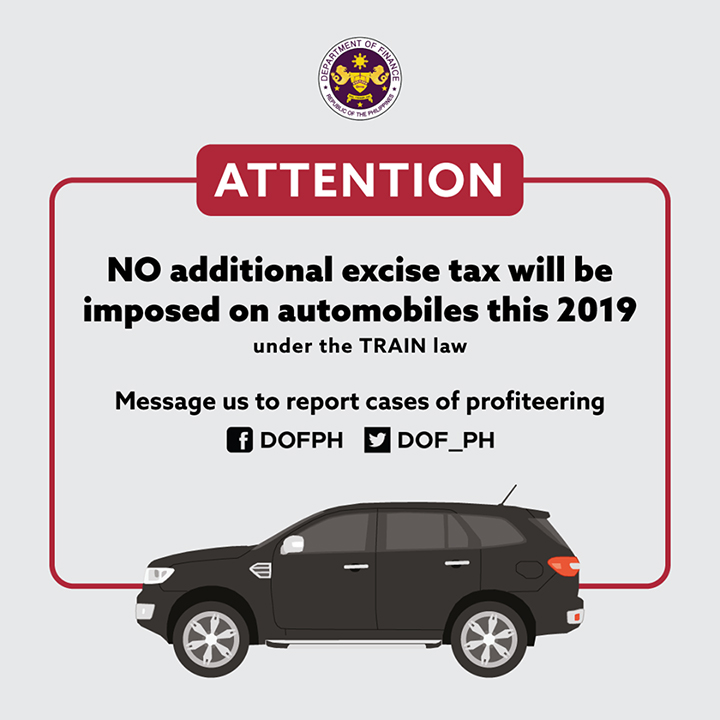 Continue reading below ↓
Recommended Videos
Again, there are plenty of individuals out there looking to make a quick buck by taking advantage of uncertainty. Back during the car-buying panic toward the end of 2017, a few overeager attendants at dealerships tried to make sales to us (we called anonymously, of course) using the threat of price jumps—this was well before car manufacturers actually implemented any.
Anyway, if anyone tries to pull a fast one on you using the TRAIN law as an excuse, know that he or she is pulling your leg. You can report cases of profiteering directly to the DOF via Facebook or Twitter, or you can reach out to car manufacturers or dealership management. Stay informed.