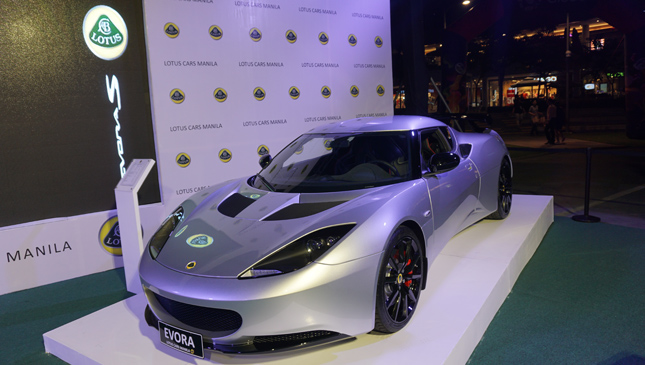 The official launch of Lotus Cars Manila is supposed to be in early August, but the Globe Slipstream event featuring Lotus Junior F1 Team driver Marlon Stockinger must have accelerated the distributor's schedule. During a dinner hosted by Lotus Cars Manila over the weekend, we already saw its cars displayed at the Bonifacio High Street Amphitheater.
The Lotus cars are quite stunning, and one can see the purity of their purpose at first glance. Legendary founder Colin Chapman's famous adherence to lightness lives on in the current incarnation of his cars. Perhaps part of the novelty about modern Lotus cars is that we are so unused to seeing them in our part of the world. These British (but currently Malaysian-owned) cars are a welcome sight in a sea of copycat subcompacts and MPVs.
Naturally, one of the first questions we asked was the price list. Lotus Cars Manila's representative promised they would get back to us, and today they did. The carmaker only has three models, with each model having four to five variants. For now our market will get all three models--the Elise, the Exige and the Evora--but only the Elise will get more than one variant.
Here's the complete list:
* Elise S Club Racer - P4,650,000
* Elise 220 Cup - P5,350,000
* Exige S Roadster - P7,500,000
* Evora S Sport Racer - P8,880,000
Exact specifications and trims have not been given yet, but we do know the Elise models have a 1.8-liter in-line four-cylinder powerplant, while both the Exige and the Evora get 3.5-liter V6 engines.
Based on what we've seen, we certainly hope the official launch in early August is a track-day format.
Photos by Dinzo Tabamo