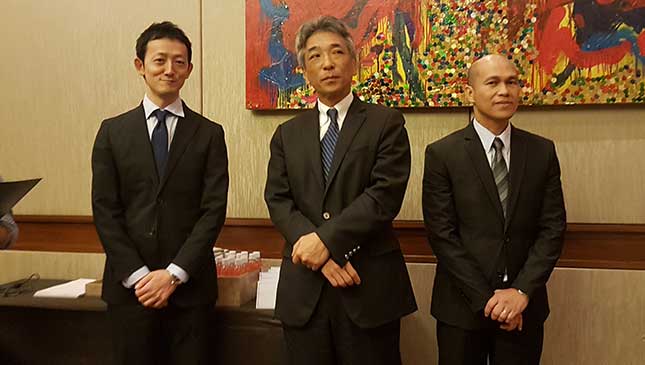 What are your expectations when the next guy taking your post is your former boss?
Daiki Mihara is saying goodbye as president of Honda Philippines Inc. (HPI), as his three-year tenure ends on April 1 this year. HPI officially announced the appointment of Susumu Mitsuishi (at the center of photo above), presently the head of Honda Asian Motor Co. Ltd based in Thailand, as Mihara's successor. Mitsuishi's appointment was announced by HPI during the signing of partnership agreement with the Philippine Basketball Association at the Solaire Resort and Casino.
We asked the outgoing executive: Does Mitsuishi have big shoes to fill in at the country's largest motorcycle company?
Continue reading below ↓
Recommended Videos
Mihara-san doesn't think so.
Being a former subordinate of Mitsuishi, Mihara is very confident that his successor will take HPI to greater heights. The outgoing boss thinks so because Mitsuishi was his former boss in their previous assignments.
"He (Mitsuishi-san) is very open. He is also a motorcycle rider," Mihara replied when asked to describe his successor.
Based in Thailand, the Honda Asian Motor Co. Ltd. functions as the regional headquarters for the company's operations initially covering the Southeast Asian market. However, with the meteoric growth of the motorcycle market, Honda Asian Motor expanded its operations to more than 12 Asian-Oceana countries. That's one big responsibility for the company. Mitsuishi's appointment is very timely since HPI has set a full marketing offensive this year.
Known by his co-workers as a cheerful and modest leader, Mihara-san will hand over a company that's in the pink of health. When he joined HPI on April 1, 2015, the total sales of the Japanese motorcycle company was around 300,000 units. Last year, the total sales of Honda motorcycles breached the 600,000 mark.
The outgoing executive had its eyes on the millennials as the target market of the new exciting Honda sports and automatic transmission line-up, which pushed the motorcycle company's sales even further. Mihara will leave an indelible mark in the history of HPI since he pushed for the introduction of big bikes in the local market last year.
When Mitsuishi assumes his new post, Mihara will return to Japan for his new assignment at the Honda Motor Co. Ltd. in Tokyo.