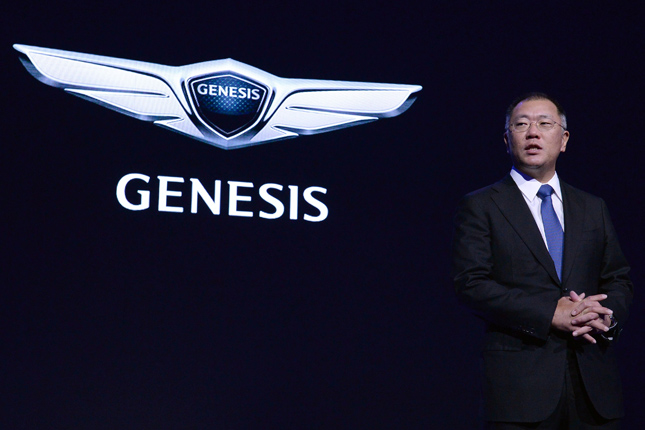 The dictionary defines the word "genesis" as "the beginning." The Christian Bible has the Book of Genesis, which talks about the origin of creation. And now, Hyundai has launched its new era in luxury motoring via a sub-brand by the same name.
While the Korean automaker already has two models that bear the Genesis nameplate (the Genesis sedan and the Genesis Coupe), it will be relaunching the name as a luxury sub-brand in a bid to establish a new marque that manufactures luxury vehicles. The Genesis luxury division is pretty much a product of branding. It is what Lexus is to Toyota, Acura is to Honda, and Infiniti is to Nissan.
Genesis will have its own distinct identity, setting it apart from Hyundai. One will know it is a Genesis when they see the Genesis name set inside a winged badge. These wings symbolize the flight of a new era for Hyundai and the luxury class.
To keep them on track, the creators of Genesis will strictly adhere to four key core values: human-focused innovation, design with athletic elegance, refined and balanced performance, and hassle-free customer service and experience.
The new luxury sub-brand will begin its salvo this December with a host of models that cater to various niches in the premium segment. The plan is to roll out six models by the year 2020. And as with most high-end brands, the model nomenclature will follow an alphanumeric pattern. There will be a 'G' at the beginning of each model name, to let the world know it is a Genesis. This will be followed by a number, such as 70, 90 and so forth. The latter will designate the class to which the model belongs.
Continue reading below ↓
Recommended Videos
So, why would people take this brand over Mercedes, BMW, Audi, Jaguar and Lexus? For one thing, Hyundai says that its offerings won't have the usual tech overload that plagues most cars today. This isn't saying it won't be smart. On the contrary, it will most likely offer a few industry firsts along the way. Yet these will be presented in a way that is easy to understand and operate. In fact, the key word that Genesis bosses used is "personalization." They will allow customers to tailor-fit their rides to their tastes, whims and probably even their learning abilities when it comes to tech devices.
At present, all this is just press talk. The real proof will be in the user experience. And this we hope to do once the Genesis brand goes official in a few months' time. Till then, we look forward to the new dawn at Hyundai.