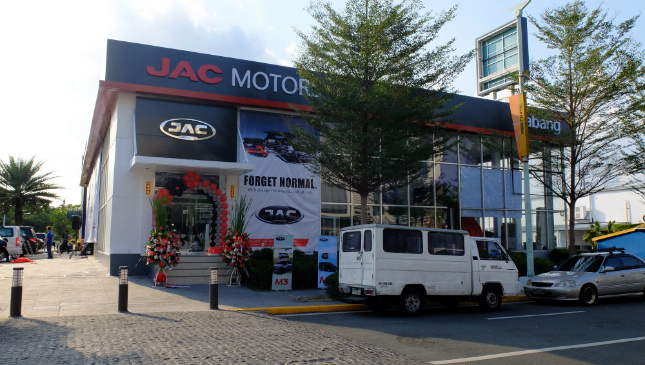 There's a new passenger vehicle brand in town, and it sports a Chinese badge.
JAC, which is more often associated with trucks and other commercial vehicles, has now entered the consumer market. Triesenburg Auto Corporation (TAC), an affiliate of the Lica Auto Group and JAC's exclusive distributor in the country, launched the new lineup during a recent event at its showroom in Westgate Center, Alabang.
TAC group general manager Valentino de Leon said: "We are honored to partner with JAC Motors as the exclusive distributor of its innovative vehicles with cutting-edge design and technology. Triesenburg Auto Corporation has become a part of a significant change, a transformation which would set a new trend in the car industry and the competition."
Continue reading below ↓
Recommended Videos
The passenger lineup includes sedans (the J series), SUVs (the S series), and passenger vans (the M series). In the commercial lineup, there are dual-cab pickups (T6), mini trucks (X200), and large vans (Sunray series). All of JAC's commercial vehicles are powered by diesel engines, while the passenger cars run on gasoline except for one variant. Prices are as follows:
Passenger vehicles
*J4 1.5-liter MT - P660,000
*J4 1.5-liter CVT - P710,000
*S1 1.3-liter MT - P575,000
*S2 1.5-liter MT - P690,000
*S2 1.5-liter CVT - P755,000
*S3 1.6-liter MT - P860,000
*S3 1.6-liter CVT - P910,000
*S7 2.0-liter DCT - P1,390,000
*M3 1.6-liter MT - P875,000
*M3 2.0-liter MT - P915,000
*M4 1.9-liter MT diesel - P1,195,000
Commercial vehicles:
*T6 1.9-liter MT 2WD - P885,000
*T6 1.9-liter MT 4WD - P1,050,000
*X200 Cab Chassis 1.9-liter MT - P690,000
*X200 Dropside 1.9-liter MT - P790,000
*Sunray 4 Series 2.8-liter MT (15-seater) - P1,250,000
*Sunray 5 Series 2.8-liter MT (15-seater) - P1,765,000
*Sunray 6 Series 2.8-liter MT (17-seater) - P1,820,000
Along with the new Alabang showroom, there are also dealerships in Santa Rosa and Pasong Tamo scheduled to open in the near future. We'll have more info on the respective vehicles soon. Does this Chinese brand tickle your fancy?