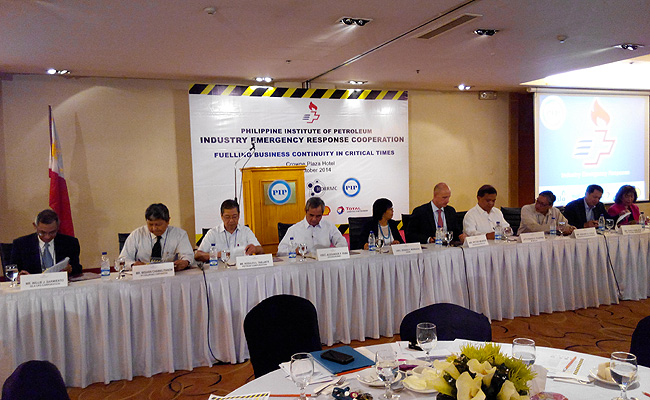 The Philippine Institute of Petroleum (PIP)--which is composed of the country's major oil industry players like Chevron Philippines, Isla LPG, Petron Corporation, Pilipinas Shell, PTT Philippines and Total Philippines--has signed a memorandum of agreement with the Department of Energy, the National Disaster Risk Reduction and Management Council (NDRRMC) and the Metro Manila Disaster Risk Reduction and Management Council (MMDRRMC), ensuring a stable supply of petroleum products in Metro Manila in the event of disasters and calamities.
The agreement was brought on by the experiences of both government and private sectors as they dealt with the aftermath of typhoon Haiyan (Yolanda) in November 2013 after it battered the Visayas region and caused P36.69 billion in damages. With Metro Manila's population of nearly 35 million, the need to prevent a similar occurrence supposedly brought on the agreement between PIP and the national government.
Under the agreement, both the PIP and the government agencies will develop a framework "to ensure fuel supply in case of emergencies and calamities such as earthquakes, typhoons, floods, fire and spills." In addition, the DOE will serve as the main contact point between the government and the organization, "and will lead in the development of a communications protocol as well as a disaster management plan."
Continue reading below ↓
Recommended Videos
As for the PIP, its members hope the following measures will be enacted as they operate in disaster-stricken areas:
* Secure the delivery routes of the vehicles by hiring additional private security personnel;
* Seek to have said vehicles exempted from the truck ban;
* Seek the relaxation of maritime clearances to facilitate easier transfer of products from the port to fuel terminals and depots;
* Restore electricity at the terminals and depots;
* Establish a protocol of coordination with government agencies; and
* Establish guidelines on the rationing of petroleum products.
Also, in coordination with the DOE, the PIP will prioritize the supply of petroleum products "to available and fully functional retail stations nearest the emergency response staging areas identified by the NDRRMC and the MMDRRMC.
"We are pleased to be part of this public-private agreement to ensure that much-needed fuel reaches people who need it the most after a disaster," the organization said in a statement. "We have learned many valuable lessons from past calamities. There is an urgent need for closer cooperation among all sectors for a speedy and effective response and recovery. We must do this together."
With the signing of the MOA for Metro Manila, the PIP also seeks to establish similar arrangements nationwide.
Photo by Patrick Everett Tadeo