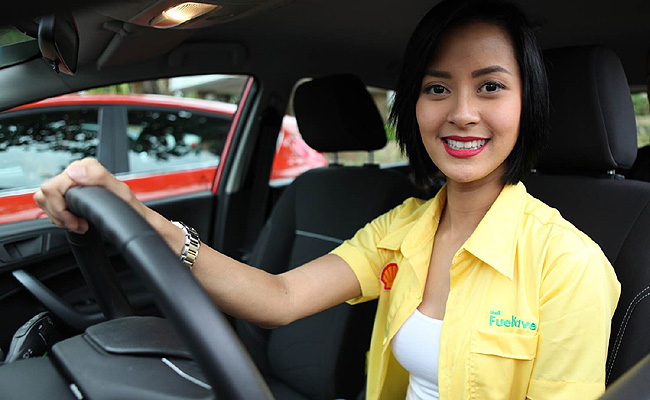 Pilipinas Shell recently had TV host Bianca Gonzalez and 13 everyday drivers test their fuel-efficiency driving skills by organizing the "Shell FuelSave Good Choice Driving Challenge," which required the participants to drive from Bonifacio Global City to Batangas and back.
Using the 1.5-liter Ford EcoSport Titanium, a total of 14 drivers drove a total distance of 240km while undertaking four different challenges along the way. These challenges "tested their ability to be fuel-efficient on the road." To teach them about smarter driving behavior, the participants underwent a special mentoring session with Shell fuel scientist Mae Ascan, who is reportedly the only Filipino among the more than 200 fuel scientists in the world.
"More than being a fuel-efficiency competition, the Shell FuelSave Good Choice Driving Challenge is our way of showing Filipino motorists how easy it is to be fuel-efficient," said Pilipinas Shell retail vice president Anthony Lawrence Yam. "All it takes is make a few simple changes to the way we drive while using the right fuel."
The one-day challenge saw mommy bloggers Sarah Tirona and Mish Aventajado finish in first place, followed by Shell FuelSave celebrity driver Bianca Gonzalez and teammate Rio Umali in second place, and another pair of mommy bloggers (Kris De Guzman and Jackie Go) in third place.
Continue reading below ↓
Recommended Videos
"I am delighted to be part of the Shell FuelSave Good Choice Driving Challenge and show my fellow motorists that every driver can be fuel-efficient," said Gonzalez, who was named the Shell FuelSave Celebrity Driver of the Year after besting three other celebrities from Singapore, Malaysia and Thailand during the final leg of the Shell FuelSave Celebrity Driving Challenge in February.
"I am not a driving enthusiast, so I am amazed to know that making simple adjustments to the way I drive--such as driving smoothly, avoiding high speeds and planning my trips carefully--can go a long way in increasing my fuel efficiency," Gonzalez added. "Of course, what makes the difference is choosing the right fuel."