Isuzu PH held an eco-driving showdown on January 26, 2019, on a preset 10 km route around its headquarters in Biñan, Laguna. The finals for the national level championship stage of the 2018 Isuzu Fuel Economy Challenge saw 27 finalists driving their Isuzu MU-X RZ4E SUVs and D-Max RZ4E pickups in one final fuel-economy run.
Six winners were declared the most fuel-efficient drivers, and each won an all-expense-paid trip to Thailand.
Here are the results, along with the impressive mileage figures:
MU-X category
Elizabeth Vinarao – 17. 6km/L (Isuzu Commonwealth)
Kart Thomas de Leon – 17.2km/L (Isuzu Bulacan)
Leonardo Eugenio – 17.1km/L (Isuzu General Santos)
D-Max category
Gerico Ponce – 20.7km/L (Isuzu Makati)
Gerald Debblois – 20.2km/L (Isuzu General Santos)
Eric Empestan – 18.2km/L (Isuzu Bacolod)
At the awarding ceremonies, Isuzu PH president Hajime Koso had this to say:
"Isuzu Philippines Corporation (IPC) has always valued, and strove for, not just power and reliability in all its vehicles, but also fuel efficiency. Our RZ4E Blue Power engine epitomizes our effort to produce the most fuel-efficient diesel engine, capable of producing more power for less fuel, which is a perfect match to our economical drivers. It is a very timely reminder that, despite the prevailing volatility of fuel prices in the market, Filipino drivers can save more on fuel expenses with the help of a fuel-efficient partner."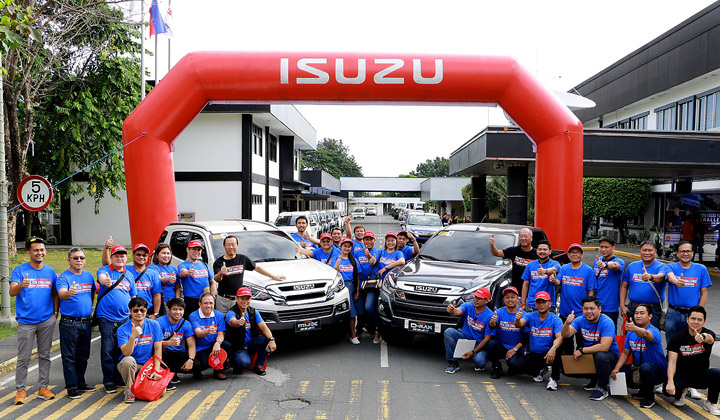 ADVERTISEMENT - CONTINUE READING BELOW ↓
The press release also states that the 2018 Isuzu Fuel Eco Challenge is IPC's way of promoting and advocating fuel-efficient driving among existing Isuzu vehicle owners and eventual Isuzu vehicle buyers. Shell Philippiness was the official fuel partner of 2018 Isuzu Fuel Eco Challenge.
Congratulations to all of the winners!