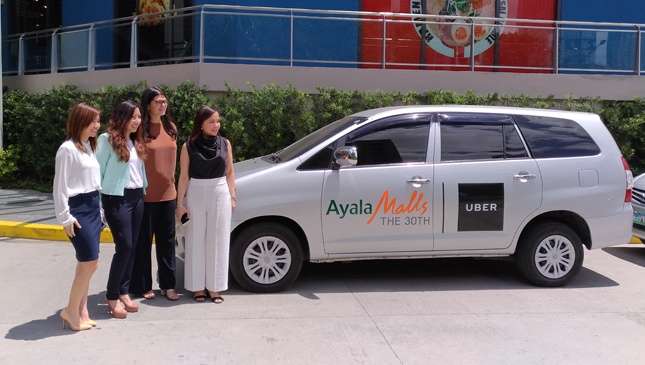 Do you live or work in Ortigas? If so, then you'll know just how congested the condo- and office-filled area can be during rush hour. This is especially true for those of you who take traditional forms of public transport, where the lines can stretch for many meters on end. To help ease this daily build-up, Uber Philippines has teamed up with Ayala Malls to introduce new UberHop routes to and from Ayala Malls The 30th.
For a flat fee of P70, riders can access Ayala Malls The 30th to and from select business hubs in Makati and Bonifacio Global City (BGC). As you probably know, UberHop is the ride-sharing company's carpooling service that gets more people into fewer cars at a cheaper rate.
The new UberHop routes, available from 5pm to 9pm on weekdays, are:
*Ayala Malls The 30th to The Landmark, Makati
*Ayala Malls The 30th to 7th Ave., Bonifacio High Street
*Net Quad, BGC to Ayala Malls The 30th
When we asked why these particular routes were chosen, Uber PH communications head Cat Avelino explained: "These are common routes that people take during rush hour, because also of their connectivity to other transport options that are available. We have three active routes for Ayala Malls The 30th. The most popular one is the one coming from Net Quad to [Ayala Malls The 30th]. These are people who are going home to the north after work."
"One of the best ways to reduce traffic is to work together with companies and organizations. We are honored to share this vision with Ayala Malls The 30th, not just in providing easily accessible and reliable transport options, but more important in promoting ride-sharing to ease traffic congestion," added Uber PH GM Laurence Cua in a statement.
This is good news for commuters who have a tough time getting to and from the Ortigas area during the week. Will you be using these new routes?