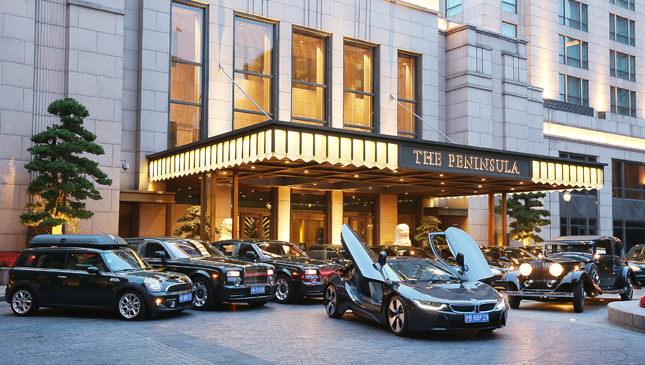 For most hotels, maintaining a fleet of vehicles to service their various clientele is a given. If it's a luxury hotel, this fleet is usually made up of some of the finest marques in the business. The popular Peninsula chain, for example, boasts a well-heeled garage that includes Rolls-Royce and Mini vehicles to shuttle discriminating customers.
As if this fleet wasn't posh enough, guests now have another reason to check into this hotel company's five-star Shanghai branch. That's because The Peninsula Shanghai has a newly acquired BMW i8, which has been added to the prestigious hotel's motor pool.
For those who aren't aware of what this BMW model is, it is the Bavarian carmaker's first-ever plug-in hybrid sports car. The sleek, futuristic two-door coupe runs on a fuel-efficient yet powerful 1.5-liter turbocharged three-cylinder gasoline engine, and an electric motor running on a lithium-ion battery. Both combine to allow the car to sprint from 0 to 100kph in just 4.4 seconds.
This is pretty much why The Peninsula Shanghai added the i8 to its vehicle lineup. It wants to promote sustainable mobility by encouraging guests to drive economically, while still having a bit of fun behind the wheel. Moreover, it's a way to show Chinese folks that it's okay to drive "green"--that if hotels like it can do this, why can't the rest of the country?
BMW has also begun teaming up with various Chinese state agencies such as State Grid, Expo Shanghai Group, and Shanghai Electric Power for help in setting up public charging stations, to make it easier for would-be electric vehicle customers to recharge their rides wherever they may be in and around China. It has likewise tasked its dealers to make after-sales charging much easier by helping install wall-boxes in clients' homes, for instance.
ADVERTISEMENT - CONTINUE READING BELOW ↓
The Chinese market is just one of the many countries where BMW sells the i8 and its i3 hybrid sibling. Since the launch of these cars in 2014, BMW has delivered around 4,000 units to customers worldwide. The BMW i8's addition to The Peninsula Shanghai's illustrious roster of vehicles may just entice more people--particularly car lovers--to check into this five-star hotel, if only to be able to experience riding or driving this cool ride.