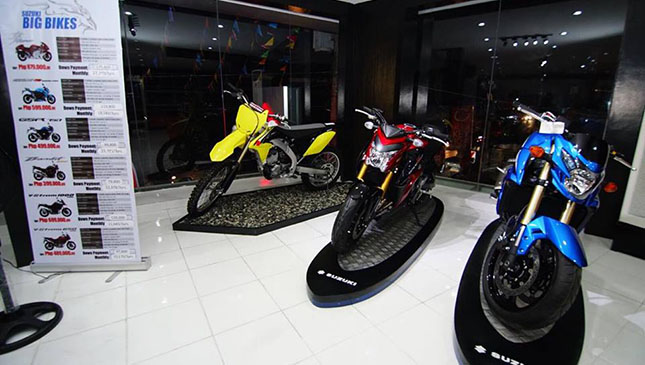 It all started with only three Suzuki motorcycles.
Dr. Reynaldo Odulio Sr. recalled that he and his wife Rosario Teresita Odulio opened a small business selling a handful of Suzuki motorcycles back in 1974. And things were never the same again for the Novo Ecijano couple.
Fast forward to 2016, the two now own the biggest dealership network of motorcycles in the country, and the phenomenal growth of their business empire, Wheeltek Motor Sales Corporation, seems to be unstoppable. Dr. Odulio is the president and CEO of WMSC while his wife Rosario is the company's executive vice president.
"Number 3 is very memorable to us. It was in December 3, 1974, the 'magic day,' when my wife and I started selling Suzuki motorcycles," Dr. Odulio said in his speech during the opening of the first Suzuki World showroom in Cabanatuan City, Nueva Ecija, last December 3.
Considered a concept shop that's the first in the Asian region, the Suzuki World showroom houses Suzuki regular motorcycles, big bikes, and automobiles. The new modern facility matches the Suzuki 3S Shop located in Makati City but with a bigger area. The term "3s" stands for sales, service and original Suzuki spare parts.
Odulio Sr. thanks Suzuki Philippines president Hiroshi Suzuki for supporting his bid for the establishment of the auto-moto concept shop, which will cater to the needs of motorcycle enthusiasts in Central and Northern Luzon.
Suzuki World was authorized to sell its exciting range of big motorcycles like the Hayabusa, considered the world's fastest production bike; the GSR 750 and GSX R600 sport bikes; the V-Strom 1000 and V-Strom 650 adventure bikes; the Bandit 650 naked; and the GSR 750 street bike.
Aside from Hiroshi Suzuki, others who graced the occasion were the Odulio siblings Raymond Joseph, VP for finance; Reynaldo Jr., VP for operations; Roscoe, VP for sales and marketing; and general manager Bobby Orbe.
A multi-brand company with more than 200 branches nationwide, Wheeltek also sells other motorcycle brands like Kawasaki, Honda, Yamaha, TVS and lately, KTM.
Proud of the success of Wheeltek, Dr. Odulio has one more wish in life.
"I am looking forward to the day when Osamu Suzuki (chairman of Suzuki Motor Corporation based in Japan) will visit us here in the Philippines and see for himself how Suzuki has grown in our country," the elder Odulio claimed.