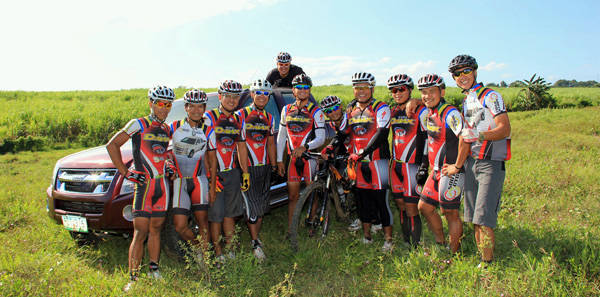 Securing strong rankings in both cycling and multisport competitions, the Isuzu D-Max Cycling Team grabbed podium finishes in four local races and one regional race. The cycling team also welcomed De La Salle-College of Saint Benilde track and field athlete John Ronnel Uy, and former race driver Matteo Guidicelli. The active personality and sporting lifestyle of the new members "capture the capabilities of the rugged-yet-sophisticated Isuzu D-Max."
At the Adrenaline Off-Road Duathlon, a 6km run/25km bike/3km run event held in September at the La Mesa Nature Reserve, the team got four podium finishes. Uy placed first in the 16-19 male age category. Randy Castillion and Jami Ramirez grabbed first and second places in the 20-25 male age category, respectively. And JM Mapacpac placed second in the 26-30 male age category.
Nearly a month later, the team scored another podium finish at the Rudy Project Duathlon held at the Republic Wakepark in Nuvali, Santa Rosa, Laguna. Noel Salvador took second place in the 35-39 male age category.
The Nuvali Dirt Weekend held in November saw the team winning a couple of podium finishes. Aljon Santos won first place in the 10-13 age category at the Cross Country event. Jesus Marco del Carmen also performed well in the Cross Country event, grabbing second place in the 14-17 age category. Randy Castillion placed fourth in the overall male solo category of the off-road duathlon event, and finished first in the 20-29 male age category. Eboy Farr, the D-Max Cycling Team coach, clinched first place in the Four Cross Elite category. Major Romulo Dimaya placed first in the Cross Country Armed Forces category.
Continue reading below ↓
Recommended Videos
Also in November, the tandem of Guidicelli and Noel Salvador grabbed third place in the all-male category of the Putik Pare-Vaseline Men Xterra Series held in Clark Field Pampanga. That same weekend, some members of the D-Max Cycling Team participated in the Specialized Asia Pacific Downhill Challenge in Sentul, Indonesia. Jerrich Farr and Jing Malabanan produced second-place finishes in the youth division and Master B class, respectively.
"We are proud of our cycling team, and I think they are equally proud to be associated with the D-Max, which is the ideal pickup for those who live an active lifestyle," said Isuzu Philippines Corporation PR manager Timmy De Leon. "Drive the D-Max and see for yourself why it is a favorite among cyclists around the country."