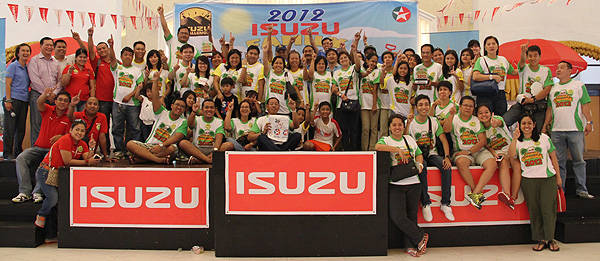 The Isuzu Family Challenge, the Japanese carmaker's annual series of fun activities "designed for families whose members bond closer together with the help of their Isuzu vehicles," is now under way.
The 2012 Isuzu Family Challenge combines the fuel-economy contests Isuzu Philippines regularly stages with its family-oriented activities that are often held at different beaches or resorts.
"Besides the proven virtues of durability and reliability that Isuzu vehicles have been known to have, they are undeniably fuel-efficient, too, as various fuel economy runs have shown," said Isuzu Philippines president Ryoji Yamazaki. "But equally important is that Isuzu vehicles have also been popular for faithfully serving Filipino families in their recreational activities, and in most cases these vehicles have become part of the family as well."
The 2012 Isuzu Family Challenge sees Isuzu owners competing in a 100km fuel economy run using their 2007-model and newer vehicles. Those who want to take part in the event but aren't owners of Isuzu vehicles are welcome to join, too, but only as witnesses to Isuzu's fuel efficiency.
ADVERTISEMENT - CONTINUE READING BELOW ↓
The annual family-oriented Isuzu event, which started on April 14, is currently being held on Saturdays until September 22 at Isuzu Philippines' 19 dealerships across the country.
"We have been staging the Isuzu Challenge since 2002, and every year we introduce a new twist to the activities to add more excitement and to bring family members together," Yamazaki added.
ADVERTISEMENT - CONTINUE READING BELOW ↓
Recommended Videos