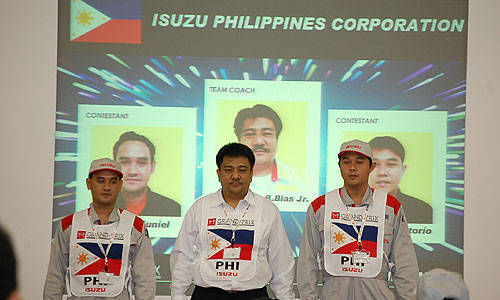 Isuzu Philippines' team ranked fifth among 18 teams at the recent Isuzu World Technical Competition held in Japan, proving that the Filipinos have world-class automotive skills.
The team, composed of Arnold Victorio and Joffry Buniel from Isuzu Alabang, and coach Constancio Bias Jr. from Isuzu Philippines' service department, bested groups from Greece, Hong Kong, Israel, Malaysia, Mexico, New Zealand, United Kingdom and Italy, among other countries. The Philippine team was behind Japan, Indonesia, Thailand and Australia.
Victorio and Buniel were chosen to represent the Philippines after they topped the recent Isuzu Service Skills Olympics--a two-day event that featured written examination and practical application focusing on vehicle diagnostics and component inspection.
The global competition held in Japan had two components: technical and academic challenges completed within a specific period. The technical side involved checking and repairing affected components of an N-Series truck, as well as engine repair and measurement, while the academic part highlighted like structure, function, actuation and handling.
The Isuzu World Technical Competition aims to heighten the level of the Japanese carmaker's service in every country where it operates. The company said the ultimate goal of the challenge is to provide Isuzu customers around the world with the best possible after-sales service.
Continue reading below ↓
Recommended Videos
"This achievement by our technicians is just the latest proof that Filipinos are indeed among the very best in the world," Isuzu Philippines president Ryoji Yamazaki said. "Isuzu Philippines Corp. is extremely proud of this feat, and I am confident that this will further spur the men and women of Isuzu in the Philippines to do their best and give their all in the service of our valued customers."
Isuzu Automotive Dealership president Rufino Luis Manotok, owner and operator of the Isuzu Alabang dealership, said the Victorio and Buniel's achievement is a "significant accomplishment" of the entire Isuzu Philippines network.
"We hope this will serve as inspiration to our fellow Isuzu dealers to always strive for excellence and to always put to good use the world-class talents that they have been blessed with," Manotok said.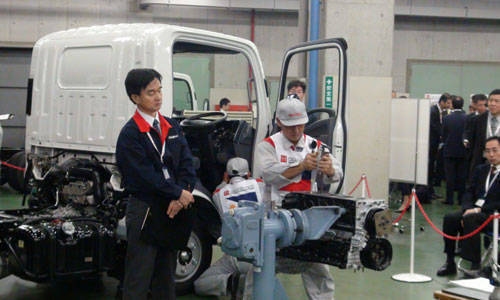 The Isuzu Philippines team in action
Photos from Isuzu Philippines