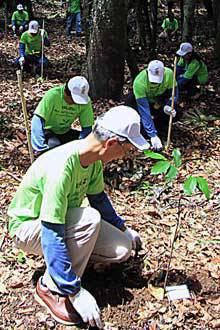 Isuzu Philippines Corp. marked its 13th anniversary by launching an eco-friendly corporate social responsibility (CSR) campaign called Adopt-A-Forest Project in Mt. Makiling.
Isuzu Philippines said it focused on Mt. Makiling for this year's CSR campaign for a number of reasons. First, it comes at the right time as the locale is celebrating its centennial anniversary this year. Second, it is located in the Laguna province where Isuzu Philippines' headquarters in Biñan is located. Third, and perhaps most important, Mt. Makiling serves as the only source of drinking water for the two million inhabitants of Laguna and Batangas.
For the project, Isuzu adopted 13 hectares of the forest where, for three years, the company will plant with 13 different tree species: gisok-gisok, guijo, apitong, almond, bagtikan, palosapis, dalingdingan, red and white lauan, narig, saplungan, hagukhok, panawi, and yakal.
Continue reading below ↓
Recommended Videos
"We chose 13 because this year is our 13th anniversary," Isuzu Philippines president Ryoji Yamazaki said in a statement. "We will also be planting 300 native trees, and we will be constructing a 1.3-kilometer walkway inside the Makiling Botanical Garden."
Isuzu Philippines also donated a welcome marker for the garden, 50 tree labels, and three message boards conveying the importance of forest preservation.
Isuzu has long been making contributions to the environment through various activities to celebrate its anniversary in the Philippines. Here are some of the CSR efforts of Isuzu in the past years:
2002 – Mounted an environment-themed show for kids in Biñan, Laguna
2003 – Donated a river garbage trap to the municipality of Santa Rosa in Laguna and placed 10,000 tilapia fingerlings in Laguna Lake
2004 – Had a two-classroom building constructed for Biñan National High School
2005 – Helped make a man-made forest strip in Atimonan, Quezon by donating 15,000 narra seedlings
2006 – Planted mangroves in a five-hectare area at the Hundred Islands in Pangasinan and donated 500 flowering trees along the national highway going to the town of Alaminos
2007 – Launched a nationwide conservation campaign for the Rizal Park in Manila, the Osmeña Park in Cebu and the Davao City Park
2008 – Launched the Save the La Mesa Watershed Project to preserve the main source of drinking water in Metro Manila
2009 – Donated 3,000 seedlings and environmental signboards to Caliraya, Quezon in partnership with the Haribon Foundation, Ecosave and the National Power Corp.; and gave 1,000 seedlings to Cebu and Surigao
Isuzu is the only carmaker in the country which locally assembles as much as 90 percent of its vehicles. To see the entire lineup of Isuzu in the Philippines, click here.
Photos from Isuzu Philippines
[gallery]572[gallery]