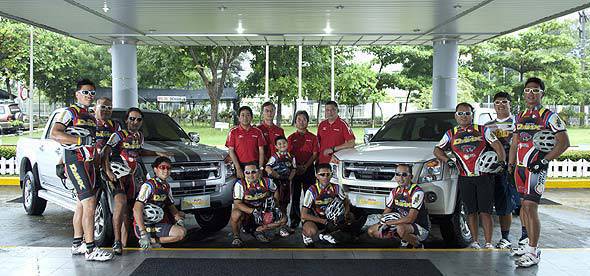 Isuzu Philippines Corporation has decided to sponsor a mountain-bike-racing team to serve as another testament to the D-Max's capabilities as an ideal pickup truck for people with an active lifestyle.
The Isuzu D-Max Racing Team is made up of 11 riders who compete in biking events nationwide. It was founded by Frederick Farr and Alvin Timbol. Farr, who serves as the team's captain and coach, led the Philippine cycling team when it won a gold medal at the Southeast Asian Games in 2007. Timbol, on the other hand, serves as the team's co-captain.
Also part of the team are Farr and Timbol's sons: 15-year old Jerich Farr and seven-year old Enrique Alonzo Timbol. Other team members are John Michael Mapacpac, Edward Tuazon, Togs Reyes, Tristan June Olegario, Theo Bartolome and Chris Patricio. The Isuzu D-MAX Racing Team also includes team manager Dunn Lawrence Sahagun and team co-manager Francis Leonard Marcelo.
The Isuzu D-Max Racing Team has already started proving its mettle. At the 5th Mayor's Cup National Downhill Competition in Iligan City, Jerich Farr took first place in the novice category, while his father Frederick finished fourth in the pro category. Alvin Timbol also managed a respectable sixth place in the executive category.
Continue reading below ↓
Recommended Videos
"We are proud to be associated with a strong cycling team," said Ryoji Yamazaki, president of Isuzu Philippines Corporation. "They are the perfect embodiment of toughness, excellence and competitiveness--all virtues espoused by the Isuzu D-Max. I believe it's safe to say that they also decided to partner with us because they consider our pickup to be the best in the field in terms of its ability to meet the transportation requirements of active bikers. We at Isuzu look forward to winning a lot of races with them."