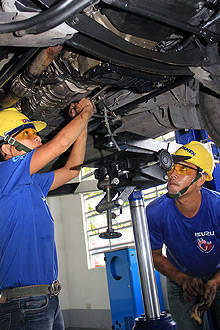 The first batch of graduates from the Isuzu-Technical Education and Skills Development Authority (TESDA) Auto Mechanic Training Center in Tacloban, Leyte are now reaping the rewards of their two-year training as all 25 of them are now employed by local and foreign companies.
"Some of the graduates from our training center in Tacloban are now working for us here in Laguna," said Isuzu Philippines sales division chief Joseph Bautista during a tour of the company's manufacturing facility at the Laguna Technopark in Biñan, Laguna. "A few, though, have gone to work for Isuzu Australia."
Bautista also noted that some of the country's car manufacturers and service shops have recruited from the training center as well.
"We don't ask the graduates to work for Isuzu Philippines right after graduation. They're free to go where they want once they graduate," added Bautista. "One of the goals of our training center is to produce world-class auto mechanics that will not only benefit Isuzu but the local car industry as well so we don't stop them or tell them where they can go."
But if some graduates are recruited by, say, Isuzu Australia, how does this benefit the local industry?
"When we sent a few of them to Japan, the Isuzu executives were so impressed by their capabilities. They said that compared to mechanics from other countries, the Filipino mechanics are quick learners and had no problem adapting to what they wanted from them," shared Bautista. "If we can't keep them in the Philippines, at least we're giving them the means to make a living and earn some money to send to their families back here."
Continue reading below ↓
Recommended Videos