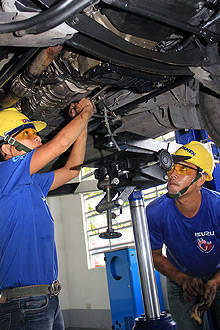 The Technical Education and Skills Development Authority (TESDA) and Isuzu Motors Limited (IML) of Japan, together with Isuzu Philippines Corporation (IPC) and Plan Philippines, recently held an open-campus event to present the third batch of scholars set to graduate from the Isuzu-funded TESDA Auto-Mechanic Training Center in Tacloban, Leyte.
The event, which serves to present the project to the automotive industry as well as a means to find employment for the training center's graduates, was attended by various Isuzu dealerships, bus operators, local companies and service shops, all of which require the services of qualified automotive technicians. Graduates of the Isuzu-TESDA training center are issued NC4 certification, which is the highest certification for auto mechanics in the country.
Besides demonstrating their wide range of automotive technical skills, the scholars acted out several role-playing scenarios to show their non-technical skills as well, such as how to properly and courteously handle customers. According to Isuzu Philippines, this shows that the skills they have learned from the training center also have real-world applications.
"These students do not only receive training under the regular TESDA curriculum," said IML associate corporate social responsibility division executive Kimihiko Sato. "Isuzu also provides technical support by sending instructors from Japan. We infuse the best of Japan and the Philippines to promote both technical and non-technical aspects of education. We would also like to get the feedbacks from those employers who have kindly accepted our graduates. And it is our intention to continuously send out capable and quality graduates who can support the development of the Philippine automotive industry."
Continue reading below ↓
Recommended Videos
To date, the TESDA Auto-Mechanic Training Center has already accepted 129 scholars, 54 of whom have already graduated and have been deployed for work.