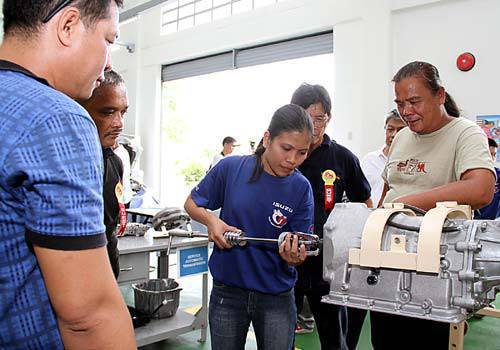 Students of the Isuzu-sponsored Technical Education and Skills Development Authority (TESDA) auto-mechanic training center in Tacloban, Leyte recently displayed their technical skills to potential employers.
The open-campus event allowed the 89 Isuzu-TESDA scholars to show the brand's dealers and service shop entrepreneurs that they are equipped with the skills needed for automotive services.
"While it's good that we have established this training center for underprivileged youth, it will go to waste if we don't follow through and see to it that the scholars will have real jobs offered to them when they finish their training," Isuzu Philippines president Ryoji Yamazaki said. "We really want these kids to succeed in life, so we brought along our business partners to check them out. After what they've seen, I believe they themselves are now convinced that the car technicians that we produce here are world-class."
The Isuzu-TESDA auto-mechanic training center opened in November 2008. It offers a two-year technical course to qualified out-of-school students. Twenty-five of the program's 89 scholars are scheduled to graduate this November with a NC4 certification--the highest level auto-mechanic training certification in the country.
"This open-campus event is our way of letting the automotive service industry know of the existence of a program devoted to train young people to become responsible and highly trained automotive service technicians," TESDA regional director Engr. Juan Sabulao said. "We hope that the students were able to prove that they have acquired the skills and competencies of a good automotive service technician over the almost two years that they have trained under the program."
ADVERTISEMENT - CONTINUE READING BELOW ↓