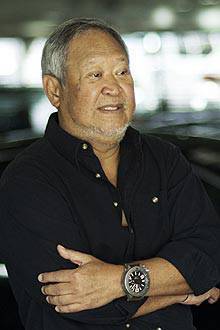 Wellington Soong, the top honcho at Jaguar and Land Rover Philippines, may soon be the ultimate automotive mogul in the country. Soong, who also counts Maserati and pretty soon Ferrari in his high-end stable, has revealed to TopGear.com.ph his interest in bringing in more car brands to the local market. However, he wouldn't fully divulge the exact identities of these brands.
ADVERTISEMENT - CONTINUE READING BELOW ↓
When asked if he's still looking to bring in more brands, Soong replied: "It's very uncanny that you would ask me that question. For some reason--and maybe it's because of our success in establishing core brands in our market--there are three major brands right now that are exploring talks with me."
We asked if we could mention the brands.
"Let's just say one is a British brand and two are Asian brands," he said rather enigmatically. "That's as far as I would mention them right now. I would leave it to your naughty speculation."
Wait...there's more.
"In fact, there is a fourth brand being offered to me," Soong quickly added. "And I'll be specific--it's Italian."
We asked if the Italian brand was Lamborghini.
"No, it's not Lamborghini," he answered.
Alfa Romeo?
Chairman Soong laughed, then said: "I'll leave it up to you."
There you have it. We think we have a pretty concrete idea of what these brands are, but we gave the big boss our word that we wouldn't spill it. Can you take a guess?
ADVERTISEMENT - CONTINUE READING BELOW ↓
Recommended Videos
Photo by Igor Maminta