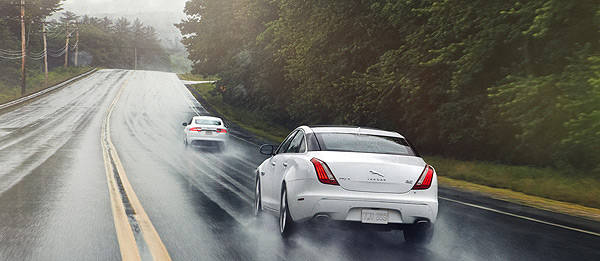 For its 2013 models, Jaguar will introduce its all-wheel drive system to the XF and XJ model ranges. Apparently, Jaguar's renewed foray into all-wheel drive was brought on by Jaguar owner Ratan Tata when the British carmaker's dealers in the United States convinced him to produce an all-wheel-drive model "to cover a significant gap in the Jaguar product armory."
"Mr. Tata has a real love of America, and when he went there to talk to the dealers, they told him they needed four-wheel drive," said Adrian Hallmark, head of the Jaguar brand. "But he is also a man who likes to see all the facts and figures before rushing into anything, so when he got back he asked if it could be done, both technically and economically, and it soon became obvious that the volumes made a compelling business case."
In response, the all-wheel-drive models will only be available in left-hand drive, with the XF and XJ models being powered by a 3.0-liter supercharged V6 gasoline engine that has an output of 335hp--the same engine that will be used for the upcoming F-type two-seater sports car. Paired to the engine is an eight-speed automatic transmission.
"Our all-wheel drive system preserves all the dynamic qualities of our rear-wheel-drive Jaguar sedans in terms of handling, steering quality and ride refinement while adding a new depth of ability in low-grip conditions," said Ian Hoban, vehicle line director for Jaguar. "The system delivers all the traction benefits you would expect, but the AWD XF and XJ are still very rewarding cars to drive, which was exactly our intention."
Continue reading below ↓
Recommended Videos
This isn't the first time that Jaguar employed an all-wheel drive system in its cars. That honor belongs to the X-Type, which was in production from 2001 to 2009.