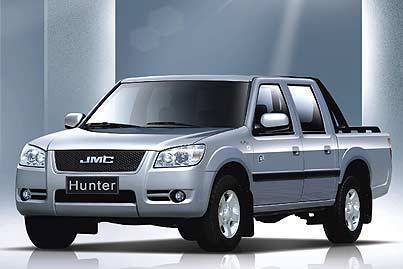 Chinese manufacturer Jiangling Motors Co. (JMC) has launched a series of pickup and light trucks produced in partnership with Filipino assembler Dreamco Automobile Co.

Four variants of the JMC N301 Hunter pickup and the three variants of the JMC Compadre trucks rolled out of Dreamco's assembly plant at the Laguna Technopark, Inc. just outside Metro Manila early this week.
ADVERTISEMENT - CONTINUE READING BELOW ↓
The Hunter comes in single and double cabin with 4x2 and 4x4 layouts.

The Compadre, meanwhile, is a series that comes in four- and six-wheeler options - all powered by a direct-injection diesel-fed engine - under the variant names JMH, JMK4 and JMK6. Dreamco imports the trucks in knocked down form and assembles them consistent with the workmanship in JMC's other assembly areas.
JMC's history and expertise in truck manufacturing comes from years of joint ventures with Isuzu Motors Corp. and Itochu Corp. of Japan, and with Ford Motor Co. It is one of China's leading manufacturers with an annual output of 100,000 units.
"JMC... sets a higher and more consistent level of quality compared to other Chinese automotive manufacturers that assemble vehicles from a multitude of generic component suppliers and which assemble and market such activities under a single brand," the company said in a statement.

JMC is expanding its dealership to 19 from the current ten to access a wider market from La Union in Luzon to Davao in Mindanao. Patrick Everett Tadeo
ADVERTISEMENT - CONTINUE READING BELOW ↓
Recommended Videos