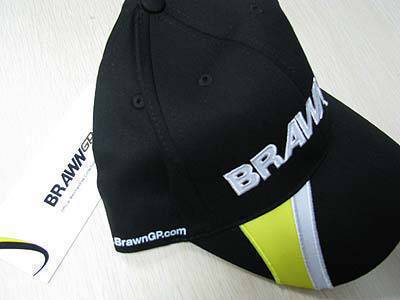 If you're a Formula 1 fan, you know what Brawn GP is (or was). Brawn GP, of course, was the fantabulous one-season-only team that surprised everyone when it won both the constructors' and drivers' championships in 2009--despite being a low-budget operation pitted against such powerhouses as Ferrari and McLaren.
You also know that due to the team's incredible achievement, Mercedes-Benz bought the franchise and renamed it Mercedes GP. Its champion driver, Jenson Button, was also poached by rival McLaren. This fleeting appearance in F1 history has elevated Brawn GP to an almost mythical status. Brawn GP merchandise, for instance, has been excruciatingly hard to find (at least the original stuff). Which is understandable since the team no longer exists (well, technically it still does, albeit under a different name and ownership). Naturally, in cases when you do stumble upon some of the defunct F1 team's products (shirts, bags and caps, among other things), the prices are always wallet-emptyingly expensive. That's to underline the fact that these are now collector's items.
However, there are rare occasions when F1 fans do come across value-for-money deals. Top Gear Philippines staff writer Sharleen Banzon, for instance, attended the recent Japanese Grand Prix in Suzuka, and couldn't believe her luck when she ambled into an F1 merchandise stall at the track and found neatly stacked Brawn GP caps. Original F1 caps sell for as much as P3,500 apiece. If it's a collectible cap like that of Ayrton Senna or Brawn GP, the price could go as high as P5,000.
Continue reading below ↓
Recommended Videos
When Sharleen asked the vendor how much the Brawn GP cap was, she was quoted a price of 5,000 yen (P2,700) for three pieces. The vendor was trying to sell the items in bulk since the actual race was already finished, and people were already leaving. This rate was already a steal, a cap only costing P900. The caps were all original, by the way, manufactured by British clothing company Henri Lloyd, an official sponsor of Brawn GP. So Sharleen offered to buy all nine remaining pieces (she was meaning to give her Top Gear teammates one cap each).
Extremely happy with this last-minute fortune, the vendor showed Sharleen his gratitude by selling all nine Brawn GP caps for a low, low price of...8,000 yen (P4,300) or some P475 each. The valuable lesson? If you're a diehard F1 fan and you fly off to a foreign country to watch a live race, wait until the race is over before buying any merchandise--that's when the prices are usually at their lowest.
And now you won't have to wonder if you see the entire Top Gear Philippines team wearing Brawn GP caps.
Photo by Patrick Tadeo