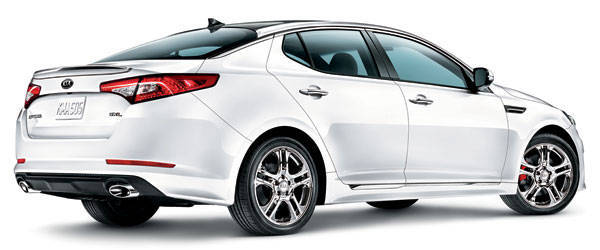 Yes, yes...we missed this one. In our 2012 Roll-Out Issue, we only put the Rio and the diesel Sportage as the only new Kia cars entering our market this year. Turns out there is another model coming--a really important one at that.
According to Columbian Autocar Corporation president Ginia Domingo, whom we bumped into over the weekend, the Optima midsize sedan is on its way. In fact, plans are already afoot for a media ride-and-drive event for the Optima in May (assuming the units arrive in time). CAC, by the way, is the official Kia distributor in the country.
Last year, we included the Optima in our 2011 Roll-Out Issue, but even then we indicated on its "Probability Thermometer" that there was only a 20-percent chance it was arriving.
And then, in our 5th Green Issue last August, we did a story on the Optima Hybrid. CAC already had a unit then, and it was, in fact, even used by Domingo herself for her daily driver.
But the Optima units to be eventually sold here will have a gasoline engine, according to Domingo. She just couldn't say what particular petrol engine would be offered, but she's certain it's not diesel and it's not hybrid. In other markets, the Optima has four gasoline engines: two 2.0-liter and two 2.4-liter.
Continue reading below ↓
Recommended Videos
The Optima is the twin model of the Hyundai Sonata. It is now in its third generation, with the very first one having been introduced to the world in 2000. The current model, launched in 2010, enjoyed viral fame last year when Los Angeles Clippers forward Blake Griffin dunked over it during the 2011 NBA All-Star Weekend.
So...the Kia Optima or the Hyundai Sonata?