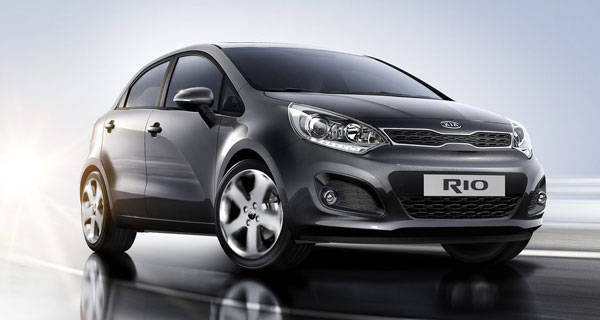 Those who've read our January/February 2012 issue should know by now that Columbian Autocar Corporation is about to launch the all-new, third-generation Kia Rio in the Philippine market. Well, that time has arrived--this weekend, to be exact. According to CAC marketing manager Boying Soriano, the new Rio will officially be available at Kia showrooms this Friday, January 20.
If you've read our story on the new Rio in our current issue, you've surely noticed the lack of pricing information in the article. That's because the price list for the Rio lineup had not been finalized when we went to press. But now we have good news for the Kia faithful: We already have the final introductory prices for the Rio fleet.
There are exactly four Rio variants that will enter our market for now, powered by either a 1.2-liter or a 1.4-liter engine, both gasoline. The first three variants are four-door sedans: the 1.2L LX M/T, priced at P598,000; the 1.4L EX M/T, priced at P678,000; and the 1.4L EX A/T, priced at P718,000.
The 1.2L LX has an 86hp, 120Nm gasoline engine mated to a five-speed manual transmission. It is equipped with 14-inch steel wheels and doesn't come with airbags or ABS. The 1.4L EX is powered by a 106hp, 137Nm gasoline engine mated to either a six-speed manual or four-speed automatic gearbox. The EX comes standard with 15-inch alloy wheels, driver-side airbag and ABS.
Continue reading below ↓
Recommended Videos
There is only one variant for the five-door hatchback, and this is the top-of-the-line model for the Rio lineup. It's designated as the 1.4L 5dr EX A/T, and is priced at P838,000. It has the same gasoline engine found on the EX sedan, mated to a four-speed automatic transmission but with a gate-type layout. The Rio hatch has 17-inch alloy wheels, dual airbags, ABS and keyless engine start button, among others.
So, do you think the new Kia Rio is priced just right? Will it give the Toyota Vios, the Hyundai Accent and the Ford Fiesta a serious run for their money? And are you disappointed there are no diesel variants?