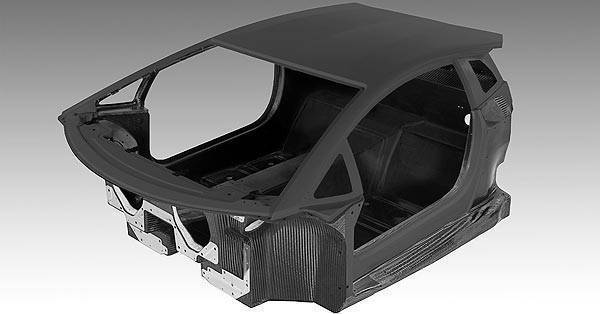 Lamborghini will unveil its flagship supercar at the Geneva International Motor Show so while we're waiting for the show's doors to open this March, the Italian carmaker has decided to tease us with a photo of the next-generation vehicle's monocoque.
Built entirely in-house by Lamborghini using its own patented process, the car makes extensive use of carbon fiber-reinforced polymer (CFRP) technology, with the monocoque, in particular, being executed entirely in carbon-fiber composite. With Formula 1 cars proving the crashworthiness of CFRP monocoques time and again, Lamborghini has decided to apply this technology to its road-going supercars where it will act as an extremely safe roll cage.
According to Lamborghini, the full carbon fiber monocoque solution offers advantages that other processes, like a tub where a metal roof structure is attached in a conventional manner, cannot realize. This is why Lamborghini decided to go with the full carbon fiber monocoque, which only weighs 147.5 kilograms (324.5 lbs).
Besides its superior passive safety feature, another benefit of the full carbon fiber monocoque is its high torsional rigidity as connected to its front and rear are equally rigid aluminum sub-frames on which the car's suspension, engine and transmission are mounted.
Lamborghini stressed that CFRP materials can be formed into highly complex components with integrated functions which, in turn, reduces the number of individual parts when compared to traditional metal construction. This means more weight is saved from Lamborghini's supercars which results in lower fuel consumption and carbon dioxide emissions.The deciding factor in the overall feel and performance of a supercar, however, is its power-to-weight ratio, which means a car like Lamborghini's next-generation flagship that's built almost entirely in CFRP "accelerates faster, has superior handling and better braking" than any of its competitors in the market.
Continue reading below ↓
Recommended Videos