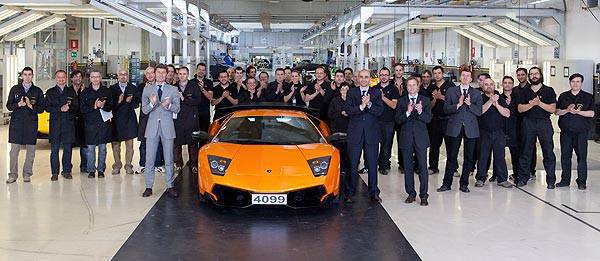 The last Murciélago has rolled out of Lamborghini's factory floor in Sant'Agata Bolognese and is headed to a customer in Switzerland.
Bearing production number 4,099 and clad in "Arancio Atlas" paintwork, the LP 670-4 Superveloce is the last Murciélago to be produced, making it the most produced 12-cylinder Lamborghini of all time.
The Murciélago's "end of production" on November 5 was celebrated in the factory with a special exhibition of the most iconic V12 cars in Lamborghini's history followed by a parade around Sant'Agata Bolognese. Lamborghini's cars like the 350 GT, the Miura, the Countach and the Diablo escorted a Murciélago SV of the Lamborghini Museum in a symbolic "last ride" out of the gate of the Lamborghini factory.
"For almost a decade, the Murciélago was the icon of the Lamborghini brand, and it was enormously successful in the process," said Stephan Winkelmann, Automobili Lamborghini president and chief executive. "The Murciélago embodies the pure, unadulterated values of our brand. It is truly extreme, uncompromising and unmistakably Italian. This already makes it one of the legends of the sports car world."
Many Lamborghini fans will definitely mourn the passing of the Murciélago, but it is also a reason for them to celebrate.
Continue reading below ↓
Recommended Videos
"The Lamborghini story continues," Winkelmann said. "In 2011, we will take a huge step into the future with the successor to the Murciélago--with the most innovative technology and, once again, truly stunning design."
Like the other 12-cylinder Lamborghinis that came before it, there's no doubt the next one is also bound to become a new automotive legend.