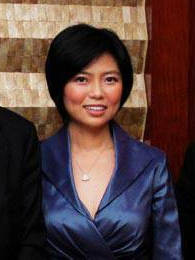 Elizabeth Lee has left her post as chief operating officer of Universal Motors Corporation (UMC) a few days after rumors spread about her possible appointment as the next head of the Bureau of Customs.
With her retirement from UMC, Lee said she is also resigning from the Chamber of Automotive Manufacturers in the Philippines (CAMPI). The industry group is now back in the leadership of Jose "Pepito" Alvarez, who served as CAMPI president from February 2003 to February 2005.
Lee stayed in UMC for 11 years and nine months, and served as CAMPI president since February 2005.
"I see my stint at CAMPI and UMC as an excellent chapter in one's corporate life. But like in a good play that deserves an encore, a new chapter will open up for me in a different setting, maybe with a different set of players, and probably with even greater challenges," Lee said in a June 22 letter sent to the motoring media.
The letter sets the stage for more questions especially since the administration has yet to proclaim the next Customs chief. Lee indicated, however, that her resignation from UMC and CAMPI will help in her decision-making process.
"My retirement from UMC and resignation from CAMPI is part of my discernment process to give me the much-needed space and time to consider other opportunities and conquer new fields," Lee added.
Do you think Lee is indeed fit to be the next Customs Commissioner? Click here to read about her achievements as a UMC executive and as president of CAMPI.
[previous|page|next]
As she leaves UMC and CAMPI, Lee sent out a letter to the media and shared the achievements of both organizations she has headed over the years. Here are excerpts from her goodbye note.
- We reached our highest ever sales, in 2010--both for CAMPI and for UMC.
- The volume and peso sales were the highest recorded in UMC's 56-year history. Making this record even more remarkable is that UMC had actually a limited product lineup.
- CAMPI auto sales likewise broke a historic record high with 168,490 vehicles sold nationwide in 2010, surpassing the previous record of over 162,000 in 1996.
- For CAMPI, your coverage and reporting of our anti-smuggling campaign was key to getting the message across and for creating the awareness to where it is today. Your support was crucial in our ability as an association to get a Presidential order and a key Supreme Court ruling in 2004 upholding the prohibition on imported used vehicles which to this day, is the driving force that will hopefully, help eradicate smuggling in the long term. Because of the rulings, the auto industry has successfully turned the tables on smuggling from its peak in 2004 where 61 percent of total new registrations were from the informal sector, down to only 25 percent based on 2010 figures.
- We voiced alarm about the problem of imported undervalued brand-new vehicles that break the rules of fair play and further rob the country of much needed revenues.
- Coverage and reporting the Motor Vehicle Development Program (MVDP) helped inform the public and government of its importance to propel the industry to a higher level. You understood that the formal auto industry, through the MVDP, supports Filipino autoworkers and parts and components manufacturers with the hope of the expansion of CKD operations.
- We successfully launched what is now is the country's premier motor show--the Philippine International Motor Show (PIMS) that started in 2007.
- For UMC, a major milestone--one that is close to my heart--is the "Ur Van, Ur Business" (UV-UB) program. Together, we successfully launched what is now known as the pioneering UV-UB program, which directly ties vehicles sales, specifically the Nissan Urvan, to poverty alleviation--a first in the auto industry and linked it to changing Filipinos lives by way of uplifting poor Filipinos through donations to a microfinance foundation that assists startup micro-entrepreneurs. The UVUB had just celebrated the program's 5th year anniversary this year, helping 5,600 families and creating 7,000 direct jobs thus far.
- We received awards from Nissan Global for UMC's sales performance such as the coveted EVP Award for three consecutive years (2002-2004). The Philippines, through UMC, was the only ASEAN country to receive such as recognition at that time.
- In 2009 and 2010, we also received the prestigious Grand Prize for World After-Sales Excellence from Nissan Global. We were chosen from over 100 Nissan sales companies worldwide, for those years.
- We achieved several milestones such as the success of the Nissan Frontier as the No.1 pickup for four consecutive years (2000-2003), a feat no other brand had reached at that time. Today, the Nissan Frontier Navara continues to command a strong position and brand recognition in the market it competes in.
- The Nissan Patrol also gained significant market share. We sold more Patrols in the Philippines than the model did in Japan. No less than the chief operating officer of Nissan Japan pointed out this fact. Today, the Patrol still is a top performer in the 4WD luxury SUV segment, most especially with the newly launched ultra luxury Nissan Patrol Royale.
- Finally, with God's grace, through some years of negotiation, the realization of my dream--the expansion of our local operations here in the Philippines by way of a new CKD model to be assembled locally, thereby increasing investments in our country, and helping create additional employment and perhaps a chance to better secure our future.