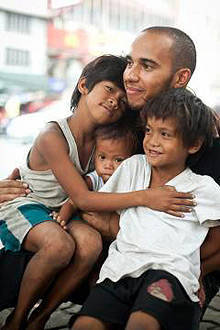 Formula 1 champion Lewis Hamilton flew to Manila after the Malaysian Grand Prix wrapped up on March 25 and stayed for a few days. But he wasn't here to spend some quality time on one of our many beautiful beaches with his part-Filipino girlfriend Nicole Scherzinger. Instead, he was here for two days to make a short film about street children for United Nations Children's Fund (UNICEF).
According to UNICEF, most of the filming took place in Binondo, Manila, where Hamilton met with around 85,000 children who live and work on the streets, "struggling to get enough food and stay healthy and often unable to go to school."
One child Hamilton spent time with was Reynold, a 10-year old boy who looks after his nine- and two-year old younger brothers by working and begging for money to buy food. The film shows Reynold and his family living in an old, makeshift wooden cart where they are exposed to the elements "and vulnerable to violence and disease."
"I hope that we have managed to make a film that will show the harsh reality for children who live on the streets in Manila and around the world. The young boys and girls who I have met today are really fantastic children, but they are living without the simple things that most people take for granted, like food, clean water and a safe place to sleep at night," Hamilton in a statement. "It shouldn't be like this."
Continue reading below ↓
Recommended Videos
UNICEF said the film will be will be shown on May 27 at Soccer Aid 2012, a competition between sports personalities and celebrities to raise funds for the organization's causes.