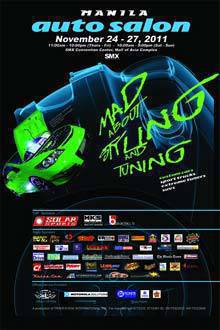 All roads lead to the SMX Convention Center tomorrow as the 2011 Manila Auto Salon opens its doors to welcome aftermarket enthusiasts.
The 2011 Manila Auto Salon, organized by Tradeshow International, will be home to over 130 modified, re-styled and tuned cars, sport-utility vehicles and even trucks for four days.
"Some of the more anticipated project-vehicle launches are by Atoy Customs/Omaka, Inc. with their unique van/truck conversions and drift cars; Car Porn Racing with wildly customized BMWs; extreme tuner cars by Autoline Motorsports Accessories Zentrium and multi-awarded 199 Off Road House with their show-stopping trucks," Tradeshow said in a statement.
Luxury brands expected to grace this year's Manila Auto Salon include Lamborghini, Ferrari, Porsche and Mercedes-Benz. There will also be Lancer Evolutions, a Nissan 350Z and a Honda S2000.
Other highlights of the 2011 Manila Auto Salon:
1. The Orlina Atalyer Art Car Project. Famed sculptor Ramon Orlina have been attending the Manila Auto Salon for several years, usually with his Beetle limousines. This time, he will present the first of what he calls his Art Car Collection featuring a 1988 Volvo 780 Bertone Limited Edition.
2. Hot Rod Philippine Club Grand Launch. Want to give your car a boost? Find out how you can do it as the newly-formed Hot Rod Philippine Club holds several activities to familiarize Pinoys with the art and science of speed and acceleration.
3. Zero-to-Hero Workshop. For the third time, SpeedLab is conducting an on-the-spot custom-building and tuning activity right inside the Manila Auto Salon exhibit area. This time, the automotive workshop will involve a 2010 Honda City.
4. Manila Auto Salon TSD Auto Rally. Are you an on-time-all-the-time driver? Check out the rally organized by MP Turbo, which is open to all road-going vehicles. Teams of two to four people are required to join this competition that focuses on route and time navigation instead of speed.
5. Manila Auto Salon in Miniature. Toy-car enthusiasts get a special spot at the 2011 Manila Auto Salon with a display organized by the Die Cast Collectors of the Philippines. It's not just for the little ones but for grown-ups, too.
Aside from these, other activities during the show include the annual search for the Best of Show Custom Car, Best of Show Sport Truck and SUV, the Best of Show Extreme Tuner Car Competition and, of course, the Manila Auto Salon Race Queen. Awarding is on November 26.
The Manila Auto Salon is open from 11am to 10pm on November 24 and 25, and from 10am to 9pm on November 26 and 27. Tickets are available at P80 (adult), P60 (senior citizens) and P40 (children).