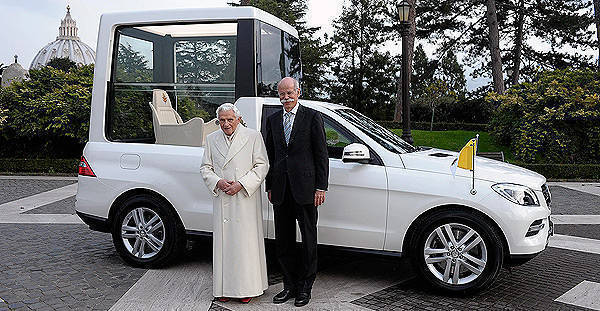 Mercedes-Benz is continuing a tradition that has lasted for 80 years. Dieter Zetsche, chairman of the board of management of Daimler AG and head of Mercedes-Benz Cars, personally handed over to Pope Benedict XVI at the Vatican a new Popemobile.
"It is an honor for Mercedes-Benz to be accompanying His Holiness Pope Benedict XVI on his future journeys with our new Popemobile", said Zetsche at the handover of the new Popemobile in Rome. "As such, we are continuing our long-standing partnership with the Vatican. For more than 80 years now, Popes have been able to rely on the quality, safety and comfort of our Mercedes-Benz vehicles."
The Popemobile is used by the leader of the Catholic Church at a number of public appearances, both in Italy and abroad, since it gives him "the opportunity to get as close as possible to the public without having to forgo the highest possible levels of safety and comfort."
Based on the M-Class, the new Popemobile is fitted with the latest technological highlights from the current model. Compared to its predecessor, the dome of the new Popemobile has been extended significantly, providing an improved amount of space and more convenient entry access. The view of the Pope has also been significantly enhanced, thanks to the considerably larger glass panels in the viewing area and the large illuminated roof lining. The throne, which is the central design feature in the interior, bears the embroidered coat of arms of the Pope.
Continue reading below ↓
Recommended Videos
As with the preceding model, the body of the new Popemobile is painted in diamond white. And to facilitate the frequent transport of the modified M-Class by air, Mercedes-Benz reduced the overall height by a few centimeters while simultaneously improving the internal standing height. Work on the new Popemobile began roughly nine months ago, with the vehicle being designed and produced in-house by Mercedes-Benz.
And just to satisfy your curiosity, the first Mercedes-Benz used by a Pope was a Nurburg 460 Pullman Saloon provided for Pope Pius XI in 1930.