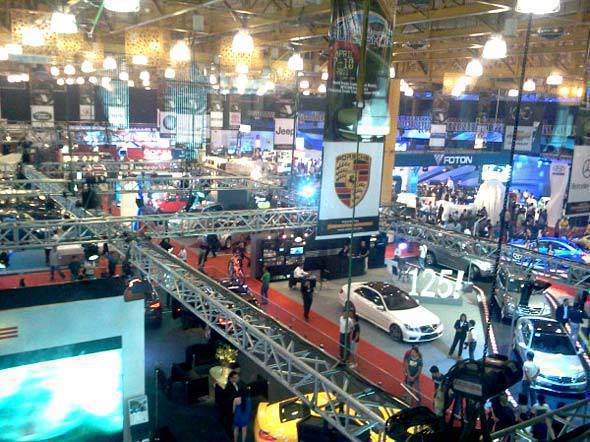 The 7th Manila International Auto Show (MIAS) is literally bigger than ever and it is now open so start making your way to the World Trade Center in Pasay City to check out cars upon cars occupying a floor space of 23,000sqm.
With so much space available and with the 27 different car brands showing off their products at the main exhibition hall alone, a handful of new car launches scheduled at the MIAS today will surely leave a lot of people salivating.
On top of the list is the all-new Hyundai Elantra, which many TopGear.com.ph readers admire judging from the comments posted in previous articles. For those looking for a luxurious yet versatile car, local Volvo distributor Viking Cars will be launching the V60, the wagon version of the S60 midsize sedan. There's also the Subaru Forester with the new-generation engine for the 2-liter variant.
MIAS, also known as the venue where most of the country's Chinese car distributors make a big show of their offerings, is also playing host to the entry of Geely Automobile with two models to launch--the Emgrand EC7 sedan and the Panda city car hatchback.
The event isn't all about new cars, however, as the MIAS also holds its annual Custom & Classic Car Competition. Popular car restoration expert Alex Isip won last year's top prize so all eyes are on him to see if he'll make it a back-to-back win for Alex Car Restoration.
Continue reading below ↓
Recommended Videos
After the exhaustive test drives done by the Car Awards Group, Inc., the event will finally see the winners of 2010-2011 Car of the Year Awards later tonight.
Guinness World Record holder Russ Swift is also here for the fifth straight year to once again showcase his numerous car stunts. Swift's appreciative fans can get to see him do what he does best for all four days of the event, with three shows to be staged each day.
Other activities that will be held over the weekend are driving seminars conducted by renowned race car driver JP Tuason, live band entertainment, a fashion show and the first leg of the European Mobile Media Association's 2011 auto sound competition.
With the bigger venue and the flurry of activities to be staged during the next four days, the show's organizer, Worldbex, expects this year's crowd to surpass the record of almost 80,000 people who visited the MIAS in 2010.
7TH MANILA INTERNATIONAL AUTO SHOW
SCHEDULE OF ACTIVITIES
Date
Time
Activity
Location
April 7

10:00am to 10:45am
Opening ceremony
WTCMM Lobby
11:00am to 11:15am
Ford Group Philippines launch
WTCMM Hall A
11:25am to 11:0am
Motor Image Pilipinas - Subaru launch
WTCMM Hall A
11:50am to 12:20pm
Hyundai Asia Resources launch
WTCMM Hall C
1:30pm to 2:30pm
Russ Swift Stunt Show
WTCMM Loading Bay
2:00pm to 2:15pm
Foton Philippines launch
WTCMM Hall C
2:30pm to 2:45pm
Auto China - Geely launch
WTCMM Hall B
3:00pm to 3:15pm
Jaguar Philippines launch
WTCMM Hall B
3:30pm to 4:30pm
Russ Swift Stunt Show
WTCMM Loading Bay
5:00pm tp 5:30pm

Mini Philippines launch
WTCMM Hall A
5:30pm to 6:30pm
Russ Swift Stunt Show
WTCMM Loading Bay
5:45pm to 6:15pm
TCCCI Chevrolet launch
WTCMM Hall C
7:00pm to 10:00pm
Car of the Year Awards Night
PTTC Hall B
April 8

1:30pm to 2:30pm
Russ Swift Stunt Show
WTCMM Loading Bay
2:00pm to 3:00pm
Ford DSFL Seminar by JP Tuason
PTCC Hall B
3:00pm to 5:00pm

Launching of WOW! Coolius AC Recovery Concept
PTCC Hall B
3:30pm to 4:30pm
Russ Swift Stunt Show
WTCMM Loading Bay
5:30pm to 6:30pm
Russ Swift Stunt Show
WTCMM Loading Bay
7:00pm to 8:00pm
Farenheit Band
PTCC Hall B
8:00pm to 9:00pm
Filipinas Band
PTCC Hall B
April 9

9:00am to 6:00pm
EMMA Competition (Part 1)
WTCMM Driveway
1:30pm to 2:30pm
Russ Swift Stunt Show
WTCMM Loading Bay
2:00pm to 3:00pm
Ford DSFL Seminary by JP Tuason
PTCC Hall B
3:00pm to 3:30pm
V-Cool launch
WTCMM East Wing
3:30pm to 4:30pm
Russ Swift Stunt Show
WTCMM Loading Bay
5:30pm to 6:30pm
Russ Swift Stunt Show
WTCMM Loading Bay
7:00pm 10:00pm
Brady Advertising Summer Fashion Show
PTCC Hall B
April 10

10:00am to 6:00pm
EMMA Competition (Part 2)
WTCMM Driveway
1:30pm to 2:30pm
Russ Swift Stunt Show
WTCMM Loading Bay
3:30pm to 4:30pm
Russ Swift Stunt Show
WTCMM Loading Bay
4:30pm to 5:30pm
Best Booth / Presentation awarding
PTCC Hall B
MIAS Custom and Classic Car Competition awarding
PTCC Hall B
5:30pm to 6:30pm
Russ Swift Stunt Show
WTCMM Loading Bay
7:00pm to 8:00pm
EMMA awarding

PTCC Hall B