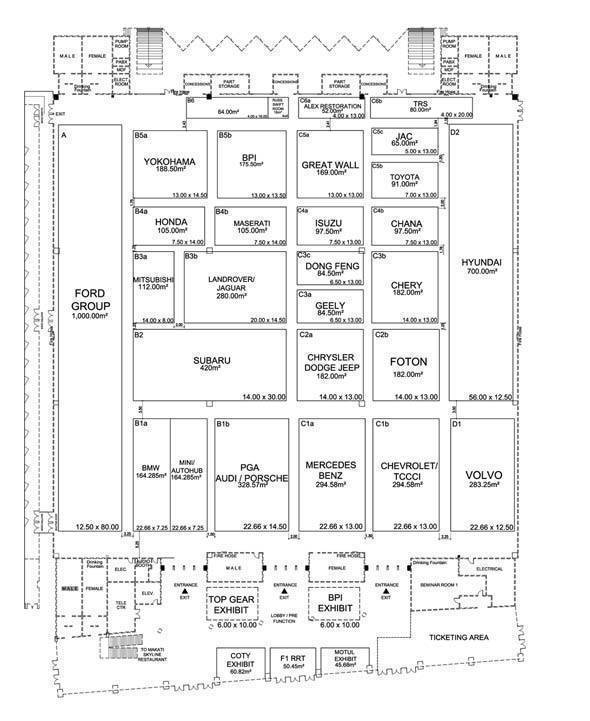 The 2011 Manila International Auto Show is almost upon us. Opening on April 7 until April 10 at the World Trade Center in Pasay City, MIAS is one of the most awaited motoring events in the country every year. To find out exactly what's in store for us at the show, here is the official and final floor plan, along with a few of our observations:
* The biggest display area is that of Ford Group Philippines, at 1,000 square meters;
* Hyundai has the second-biggest exhibit booth, at 700 square meters;
* Subaru owns the third-biggest display area, at 420 square meters (expect precision driver Russ Swift to constantly make an appearance to sign autographs);
* The other major Korean brand, Kia, will not be at the show;
* BMW and Mini will share space, and understandably so, since Mini is owned by BMW (although the two brands have no official tie-up in our market);
* Toyota, Mitsubishi, Honda and Isuzu--all loyal members of the Chamber of Automotive Manufacturers of the Philippines, which organizes its own motor show every two years--have small token booths to be managed only by their dealers. Nissan, another CAMPI loyalist, is altogether absent;
* Chinese carmakers will be prominent. Present at the show are Great Wall, JAC, Chana, Chery, Foton, DongFeng and newcomer Geely;
Continue reading below ↓
Recommended Videos
* Among the premium and luxury brands, only Lexus will be missed. Aside from BMW, those joining the show include Jaguar, Mercedes-Benz, Audi, Porsche, Maserati and Volvo;
* Chevrolet also has a prominent display area, measured at nearly 300 square meters;
* Chrysler and Jeep round out the list of automotive brands present at the show;
* Yokohama is the lone tiremaker that has a booth in the main hall, beside the car manufacturers;
* As show visitors enter the World Trade Center exhibit hall, they will be greeted by the booths of BPI Family Savings Bank and (ahem) Top Gear Philippines; and
* Also at the lobby is the exhibit of the Philippine Car of the Year awards, including this year's winners.
We hope to see you at MIAS next week. Don't forget to bring the whole family.