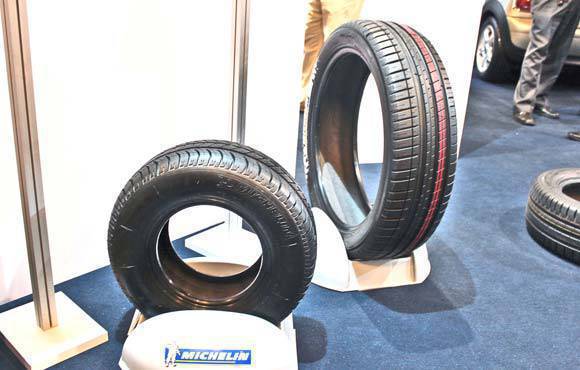 Michelin showed off three tire technologies aimed at promoting efficient travel and sustainable mobility at the recent Challenge Bibendum 2011, a conference attended by over 5,000 representatives from business, industry, civil society, politics, science and media.
Here are innovations that may soon be a part of the tires we use as big companies like Michelin factor in sustainability and environment conservation in its production:
1. Self-repairing tire. According to Michelin, this tire may be driven over sharp objects like nails and it would not lose a single gram of pressure. "Made with a unique rubber compound that immediately plug holes in the tread, the tires differ from ordinary run-flat tires and continue to deliver all the regular functions of a fully-functional tire such as safety, total mileage and fuel efficiency."
2. Heavy-duty concept tire. This tire, developed specially for trucks, can carry a load of as much as five tons. They're also designed to decrease fuel consumption by 20 percent.
3. 10-inch tire and wheel. Does size matter? Bigger tires mean more resources are used for production. Michelin has developed a 10-inch tire that delivers the same on-road performance as a 14-inch tire and at the same time carry 15 percent more weight. "The small size makes this wheel take up less space and makes more room for interior space under the hood, inside the passenger compartment and in the truck," Michelin said.
Continue reading below ↓
Recommended Videos
While the tire company has yet to determine when the new technologies in the concept tires will actually hit the stores, Michelin Philippines said it will soon launch a new product for the passenger-car range.
"The new Michelin tire breakthrough will soon be available through local tire dealers and tire shops nationwide, and guarantees to be significantly more durable and more fuel efficient than its predecessor," said Michelin Philippines chief representative Adam Storey.
The new product bound for the Philippines promises 20 percent more mileage for users as well as fuel-saving mobility in line with the thrusts of Challenge Bibendum.
Michelin has developed five generations of fuel-efficient tires for cars and three for trucks since 1992. The company said its tires have reduced fuel consumption by nearly 14 billion liters and cut carbon dioxide emissions by over 35 million tons worldwide.