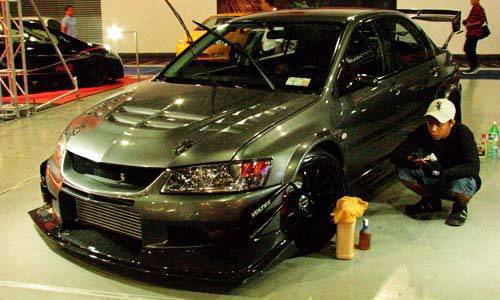 A fully-modified Lancer Evolution VIII bagged the most contested trophy at the 2009 Manila Auto Salon-the country's largest automotive aftermarket car show.
The dark grey Mitsubishi Lancer Evolution VIII, owned by Carlo Villamar, took home the show's most contested title along with the Best of Show trophy for the custom cars category.
Villamar said he took the Evo VIII to different aftermarket specialists for customization. The bodykit, engine and turbo kit were from Emperor Motorsports, PR Autosport and 118 Design took care of the painting and installation, and Autoline did the audio Evo VIII's setup. Finally, Autoplus' Pacho Blanco tuned the engine to produce 455 horsepower at the wheel.
Continue reading below ↓
Recommended Videos
The Evo VIII owner said it took him only a month to completely set up the Lancer but waiting for the imported parts to reach the Philippines took quite a while. Seven months and some P2 million later, the Lancer is on its winning state as a showcar.
"I also have an Evo X but I chose to enter the Evo VIII because it's very special to me and I've had it for a few years already," said Villamar. No doubt, bagging the Best Show title in the Custom Cars category makes the Evo VIII even more special to him now.
Villamar's Evo VIII also earned several minor awards such as the Best Bodykit - Function, Best Tuner - AWD, and Best Sports Sedan - AWD. It also won the People's Choice Award for getting the most number of votes in the poll ran by TopGear.com.ph.

Other Best of Show winners in the 2009 Manila Auto Salon were Jeffrey Go Cu's 1999 Toyota Hilux for the Sport Truck category, the 1987 Toyota Landcruiser BJ60 owned by Charlie Yao for the SUV category, and Autoplus Sportzentrium's Nissan Silvia RPS13 for the Extreme Tuner category.
Click here to see the rest of the cars at the 2009 Manila Auto Salon.