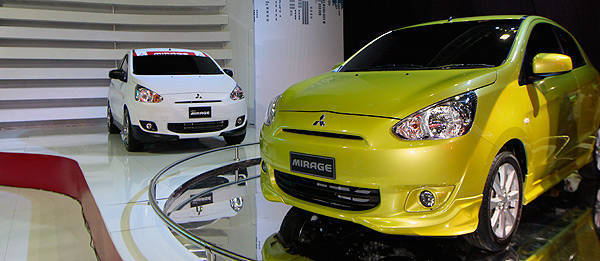 Mitsubishi Motors Philippines has a lot to be happy about with the way the market received the Mirage subcompact hatchback at the recently concluded 4th Philippine International Motor Show.
If the crowds that gathered around the car during the four-day run of the show weren't proof enough that it will be a popular choice in its segment once it's officially launched locally in November, then perhaps the number of reservations placed for it three months before it goes on sale should convince you.
According to MMPC advertising and promotions manager Arlan Reyes, the Japanese carmaker has already received over 40 reservations for the Mirage as of August 18, the third day of the show.
"It would've been more than that if we had a card-swiping machine for sales transactions," said Reyes. "After all, not everyone has P10,000 in cash on hand all the time."
Reyes was referring to the P10,000 reservation fee that MMPC was asking for the Mirage during the motor show. Reyes added that the buyers interested in placing an order for the Mirage can still pay for the same reservation fee at Mitsubishi's dealers.
UPDATE: According to MMPC, as of the fourth and last day of the show, August 19, it had already received over 80 reservations for the Mirage.
Continue reading below ↓
Recommended Videos
Photo by Marlon 'Taz' Dacumos