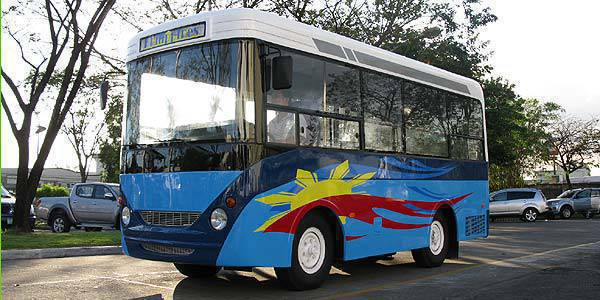 Mitsubishi Motors Philippines (MMPC) and partner Almazora Motors introduced a fresh alternative to jeepney and buses: the BEEP.
The BEEP, inspired by Europe's Gruau Microbus, is a micro bus that is suitable for Metro Manila's crowded streets--making it an ideal replacement for jeepneys and Asian utility vehicle (AUV).
"The auto industry should not only care about selling brand new vehicles but also take a lead role in improving the mass transport system," Mitsubishi Philippnies president and chief executive Masahiko Ueki said. "Since no assembler has really pursued to modernize the public transportation, MMPC as a socially responsible automotive company have collaborated with Almazora to come up with a better solution for mass transportation."
Continue reading below ↓
Recommended Videos
Using a FUSO Canter light duty truck chassis from Mitsubishi Philippines, Almazora Motors designed and manufactured a bus body that can accommodate 18 passengers on bench-type seats and up to eight standing commuters.
The BEEP's Mitsubishi engine complies with Euro emission standards, making it more environment-friendly than surplus Japanese engines used in today's jeepneys. Its high-roof, low-floor, and large wraparound windows make the interior roomier while reducing the driver's blind spots.
The BEEP is also fully-configurable depending on the needs of the client. Almazora executive vice president Conrad Almazora said his company can manufacture as much as 50 standard-configuration BEEPs a month, with a turnaround time of one month from order placement.
The bus-jeepney hybrid of Mitsubishi Philippines and Almazora is priced at P1.6 million, almost twice the price of an AUV. Its revenue potential, however, is more than double due to the larger seating capacity. Acquisition is also easier through bank financing.