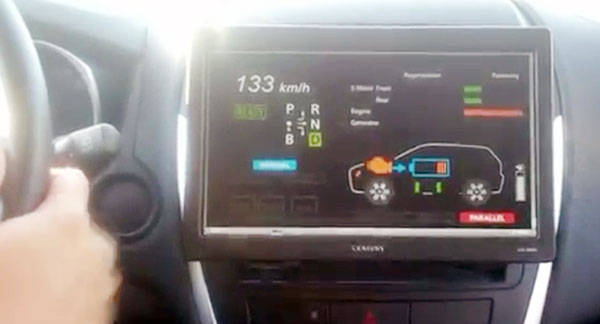 We know that while Toyota and Honda have made major strides in hybrid technology, fellow Japanese carmaker Mitsubishi Motors has seemingly lagged behind in this department. Sure, it has the i-MiEV but it's electric and really small. It won't appeal to buyers with a sizable family. If said customers desperately want an alternative-propulsion car, they'd likely get a Prius or a hybrid Civic instead.
But now Mitsubishi proudly announces that it is about to introduce to the world its first-ever plug-in hybrid technology. We tested this technology in Japan late last year, as applied to a current-body Outlander. Mitsubishi let us drive it in its testing facility just to get a feel for the system's operation. Here is a video of that short test.
Please note that this wasn't a test drive of the vehicle. The plug-in hybrid technology will be made available on the next-generation Outlander, not the current one. This is just Mitsubishi's way of proving that it has indeed come up with its own hybrid system, and that it will offer this to the global market within the new fiscal year.
The video includes interviews with Mitsubishi Motors Philippines Corporation marketing services vice president Froilan Dytianquin; MMPC executive office vice president Akihiro Yamada; Mitsubishi Motors Corporation PR manager Russell Roll; and Top Gear Philippines design critic Brian Afuang.
Incidentally, Dytianquin reveals in the video that the Philippine government will work closely with the auto industry this year with regard to the installation of charging stations for electric and plug-in hybrid vehicles in Metro Manila.
If you're viewing this on a mobile device and can't see the video, please click here.