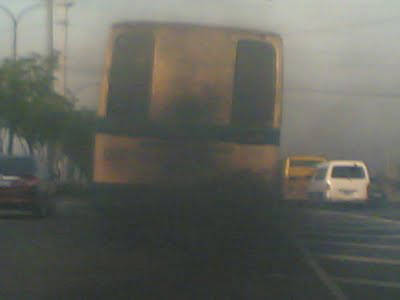 You no longer have to feel hopeless and violated whenever a smoke-belching vehicle crosses your path. The Metropolitan Manila Development Authority (MMDA) has opened its hotline for concerned citizens who want to report smoke belchers.
Photos of smoke-belching vehicles taken with a mobile phone camera may be sent to the MMDA hotline +63917-5618709. The message should include the photo of the smoke-belching vehicle, its license plate as well as the time and date when, and place where the photo was taken. If the violator is a passenger bus, the name of the bus company should also be included in the message to the MMDA.
"As soon as we get these MMS (multimedia messaging service), we will scour our databank and we will be able to identify the culprits, then we will send them summons," MMDA general manager Robert Nacianceno said.
The MMDA has been deputized by the Land Transportation Office to enforce Republic Act 8749 or the Clean Air Act.
Under the law, first-time violators will be fined P1,000 while second- and third-time violators will be fined P3,000 and P5,000 respectively. Succeeding offenses would be punished by having their private vehicle's registration and the franchise of public utility vehicles revoked.
Meanwhile, the MMDA will also start apprehending smoke-belchers even without an emission test to make it more efficient for the agency to clamp down on violators of the Clean Air Act.
"Just the sight of a vehicle emitting black smoke means it's polluting the air and the vehicle's injection pump is not being cleaned regularly," MMDA chairman Oscar Inocentes said.
Those caught driving smoke-belching vehicles will be cited by the MMDA's Environmental Protection Office.