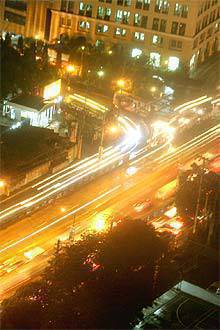 With Christmas just over a month away, Metropolitan Manila Development Authority (MMDA) chairman Francis Tolentino met with the officials from two of the biggest shopping districts in Metro Manila to prepare for the expected traffic congestion in their respective areas.
During the meeting, Tolentino urged the officials from the Ortigas Center Association and Ayala Properties, as well as representatives from Robinsons Galleria and SM Megamall, to coordinate with the MMDA at least two weeks ahead of a planned shopping sale or big promo that would draw a large crowd. This will allow the MMDA and traffic officials from the local government to better manage the volume of vehicles.
Continue reading below ↓
Recommended Videos
"Traffic is everybody's concern," Tolentino said. "We should look at it holistically rather than limiting our concerns to within one area of jurisdiction only."
Among the plans discussed is the construction of a loading and unloading point at Onyx Avenue to accommodate Asian utility vehicles that unload passengers along Meralco Avenue near the foot of the Meralco flyover.
Tolentino also discussed with the Ayala Properties and the Makati Parking Authority the possibility of synchronizing the traffic lights along Ayala Avenue to facilitate a faster flow of traffic within the central business district.
Tolentino tasked newly-appointed MMDA undersecretary Alex Cabanilla to oversee the strict implementation of the measures discussed during the meeting.
"This is only the start of the things that we will be doing for the next few months to relieve Edsa of traffic congestion," Tolentino added.
Do you think these measures are enough to give us a stress-free shopping season? What other suggestions do you have to solve traffic woes in Metro Manila?
Photo from SXC.hu