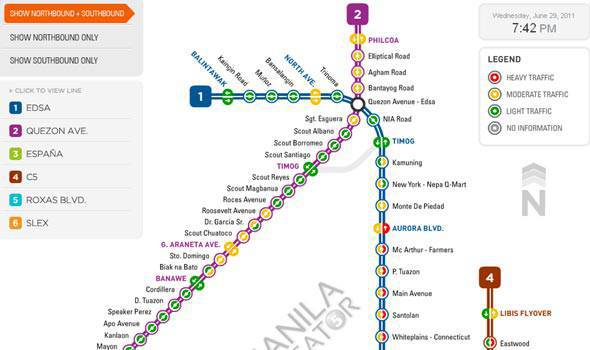 If you find the Metropolitan Manila Development Authority's (MMDA) traffic updates on Twitter a tad too slow, you'll be pleased to know that the agency has teamed up with TV5's Interaksyon.com to come up with the Metro Manila Traffic Navigator.
Found at mmdatraffic.interaksyon.com, the Metro Manila Traffic Navigator displays real-time traffic conditions on six of the metro's major roads: EDSA, Quezon Avenue, España, C5, Roxas Boulevard and the South Luzon Expressway. Using a color-coding scheme, motorists are alerted how the traffic flow. A red marker, for example, indicates heavy traffic. Yellow means traffic is moderate while a green means traffic is light.
The traffic updates can also be viewed in three different ways. Through the system view, you get a glimpse of the traffic situation on all six roads at the same time though there's an option for you to view just the northbound or southbound areas. The line view, meanwhile, lets you look at both the northbound and southbound lanes per road at a single time. As for the Google Map view, the color coded markers are placed on one of the six roads based on your selection using the Google Map application.
The site is still in beta mode so the updates come in only from 6am to 10pm. It's still worthy of being bookmarked on your browser, though, especially once it becomes active on a 24/7 basis.
Continue reading below ↓
Recommended Videos