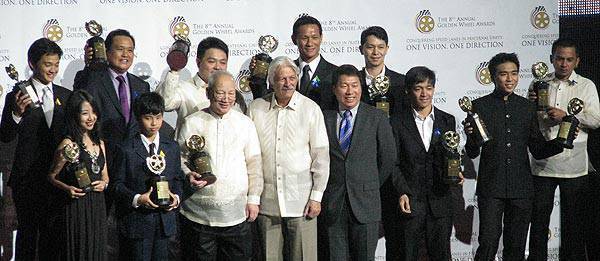 Biking champ Maico Greg Buncio is this year's Golden Wheel Awards' Driver of the Year following his dominance in his chosen motorsport field.
The 23-year old motorcycle rider proved his mettle when he broke the underbone- and 400cc superbike-class lap records at the Batangas Racing Circuit (BRC) with a time of 00:02:07 and 00:01:37, respectively. His most recent record is timed at 00:01:37 posted in July 2009 in the 600cc superbike-class, which was also held at the BRC.
Buncio is also a seasoned rider in motocross, having won the 1996 FBO Motocross Series at TRAKSNIJAK Race Track in Tagaytay City (10-year old and below, 50cc class) and the 2002 FMF Memorial Day Motocross Races at Perris, California (14-year old and below, 85cc mini class).
Besides bagging the Driver of the Year award, Buncio also took home his fourth consecutive trophy in the Superbike category.
The young motorcycle rider has also set his eyes on other competitions abroad.
"I believe I've achieved all that I can here," Buncio said. "That's why this coming season, I'll be competing in the Asian GP and I hope the kind of success I've had here, I'll achieve there as well."
Other Golden Wheel Award winners this year are:
Continue reading below ↓
Recommended Videos
Motorcycle
Ivan Santiago (Scooter)
Jaime Barcial (Underbone)
Glenn Aguilar (Motocross)
Automobiles
Stefano Jean Marcelo (Karting)
Alex Perez (Drifting)
Abraham Salagan Collado (4x4 Off-road)
William Tan (Grand Touring)
Jonathan Tiu (Drag Racing)
Yasuo Senna Iriawan (Asian Karting - Junior)
Sean Gelael (Asian Karting - Senior)
The 8th Golden Wheel Awards gave the Hall of Fame recognition to former drag racer and circuit champion Yu Beng Tek, who flew all the way from Canada to receive his trophy. In his acceptance speech, Yu said "camaraderie in the local motorsport scene can make you go a long, long way" as he reminisced how he won his first race after a competitor he was friendly with gave him a bald set of tires to compete in.
The Golden Wheel Awards is an annual affair where proponents of Philippine motorsports led by BRC president Johnny Tan distinguish and acknowledge the top names in the local motorsport scene.