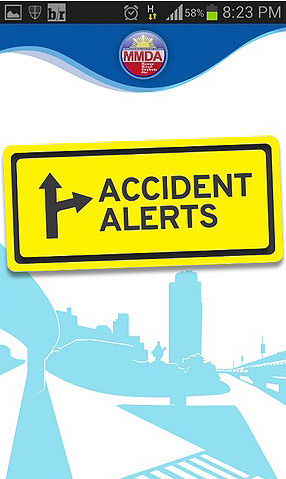 In 2011, the Metropolitan Manila Development Authority launched its popular "Metro Manila Traffic Navigator" app, which now alerts us to the traffic situation on the different main thoroughfares in the NCR.
Starting tomorrow, October 17, the agency is making available a new app that will alert its users of "faster and real-time updates on road accidents along Metro Manila's major thoroughfares."
"Motorists and even commuters will now be informed of all vehicular accidents along the major roads through this application," said MMDA chairman Francis Tolentino. "As such, they can plan their travel accordingly and avoid routes where accidents occur."
The app is simply called the "MMDA Accident Alerts Application," which can be downloaded on the Google Play store. With it, users can see not only road accidents rendered in street and map views, but also a list and history of accidents. And like the popular Traffic Navigator app, the areas covered by the new one will be based on the agency's traffic navigator setup and will be updated hourly, relying on the MMDA's CCTV cameras and on the reports submitted by its traffic enforcers and field personnel.
Tolentino added that flooding and road reblockings will also be included in the app in the future. Also, while it will only be available to Android users for now, the app will "also be available for the iOs platform soon."
Continue reading below ↓
Recommended Videos
"This application will be useful in decongesting our roads as motorists can plan their trips effectively," Tolentino added.